This trip started when I watched the AirAsia ticket promotion a long time ago, and the promotion was not exciting at the time. After the second whim, I looked at the ticket again and there was no promotion price.
In fact, I have been a trip to Chiang Mai , and had thoughts of going to other places to play, the final choice again in Chiang Mai .
On the one hand is to think before August this year, visa-free fee, do not always feel wasted; on the other hand is because I am really particularly like Southeast Asia .
The first time I came here was with my family. I wish I would get up early in the morning and visit several attractions. This time I came for the whole 6 days and experienced the experience of waking up every day and asking the owner of the hotel to recommend where to go.
To Chiang Mai before, we can wait and see tickets, find the opportunity to quickly start! Chiang Mai overall level of consumption is not high, either to eat or drink very cheap accommodation, so students party outbound travel is strongly recommended Southeast Asia ah ~
itinerary is purely running account + Share, is no dry, only for reference, for after all Your own is the most important.
For at least the second time to Chiang Mai friends, the first time the words or get to various attractions punch.
For the first time to Chiang Mai , you can refer to my other a travelogue.
If you have any questions, please leave a message to me.
Chiang Mai is a place worth visiting many times.
Suitable for slow travel, you can find different scenery every time you go.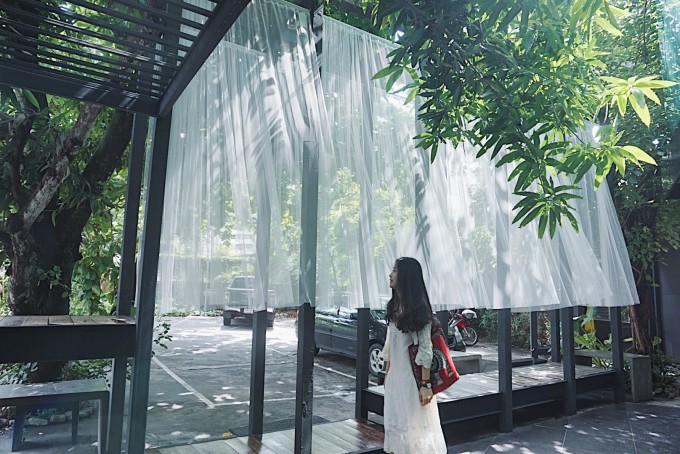 Charn Kiam Bed Hotel-Adults Only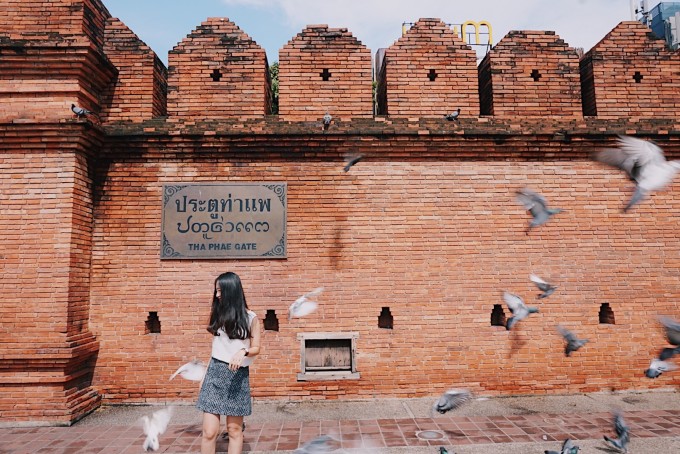 Taupe door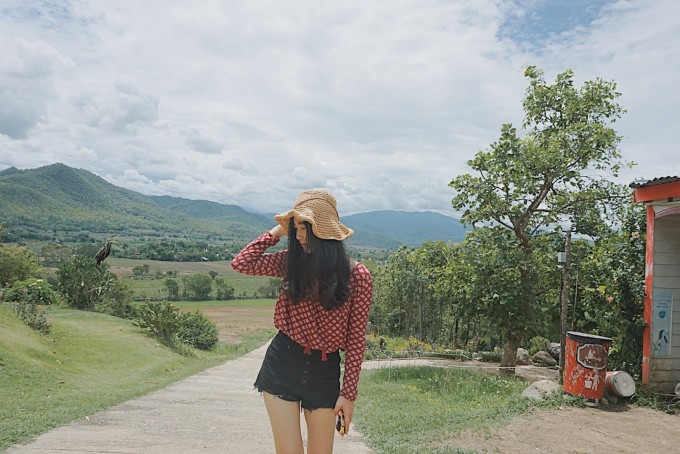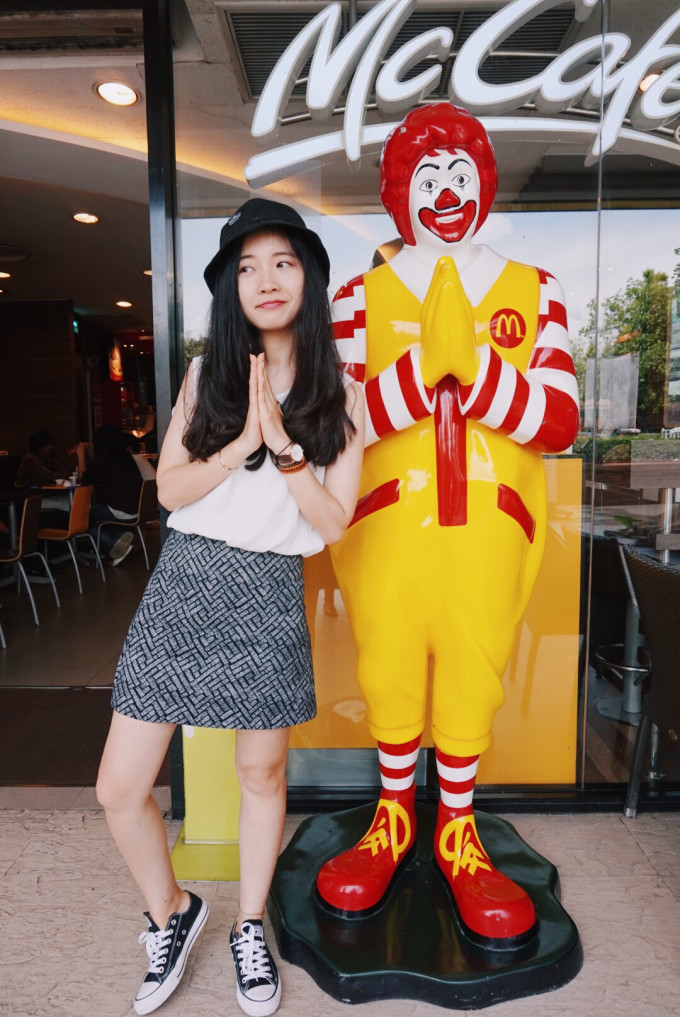 Taupe door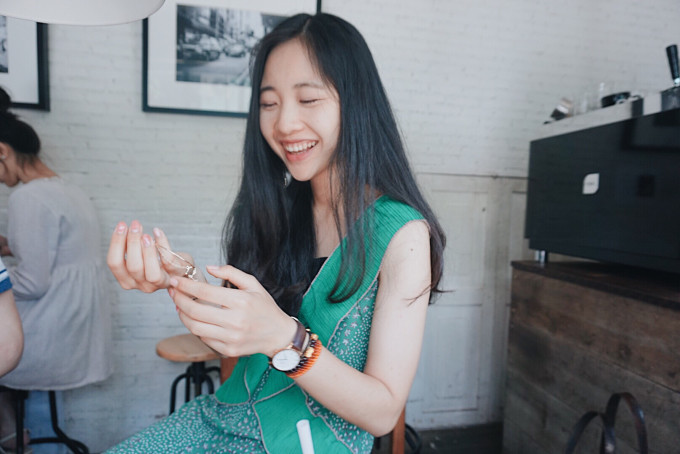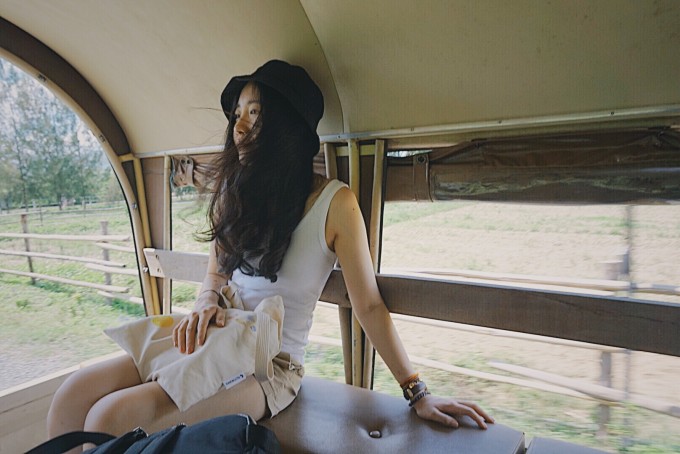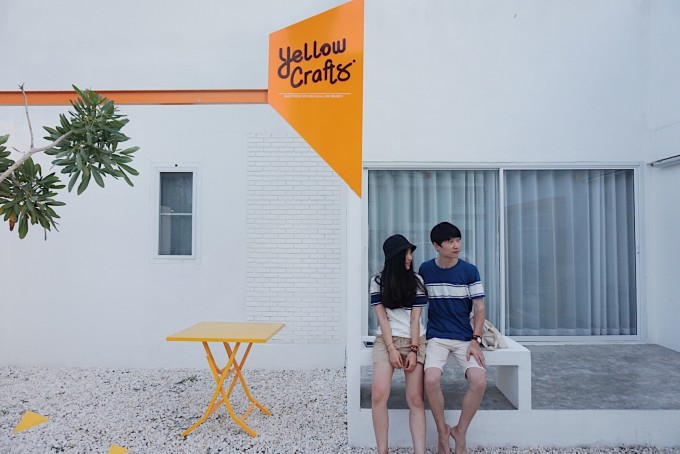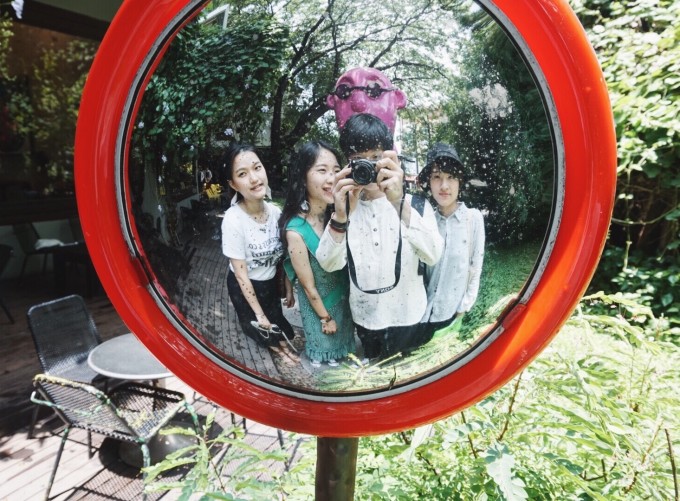 Nimman Road
Tickets: buy AirAsia, Hong Kong Flying Chiang Mai , 5538 a total of four people, including the outbound and return of baggage fees.
The entire trip is 6 days, because the visa fee is exempted during the period, so only the handling fee of 80 yuan per person is paid for the visa for the tour group.
Phone card: Happy card bought online, 30 yuan per piece.
Accommodation: A total of 4 homestays have been booked in 6 days. All are ordered on agoda.
1. Thank u house 390rmb
2. Farm Hotel 668rmb
3. Khon Kaen 358rmb
4-6, Bed Hotel 1120rmb
. It is most important for you to choose the one that suits you.
DAY1: ( Shenzhen - Hong Kong - Chiang Mai )
about 12:00 to about Shenzhen North Station, a taxi to the station after the Huanggang checkpoint about 45 dollars. There are many Sino-Hong Kong vehicles at the entrance of Huanggang Port, 150/person, 700/car for chartered vehicles. My suggestion is that if you are traveling with 4 people like us, you can choose to charter a car. Only 4 people in a car are allowed to pass customs on the car, and the rest of the people in the car will be randomly called to go to the customs hall for customs clearance. Therefore, if it is not a chartered car, the driver will accept another person. At this time, I can only fight for luck. People who have not cleared the customs on the car take the new passport to the lobby and press the fingerprint to pass the customs quickly. It is very convenient that the
entire customs clearance is quite fast. , Plus the time spent in queuing vehicles, the whole process takes about 20 minutes. Basically no traffic jams, about 45 minutes to get to Hong Kong Airport, we went to Hong Kong airport when it is 2:30.
Hong Kong Passenger Airlines is in the T2 terminal, it is very conspicuous when it enters the airport, the purple sign. After changing your boarding pass, you need to take the shuttle bus to another terminal to board the plane.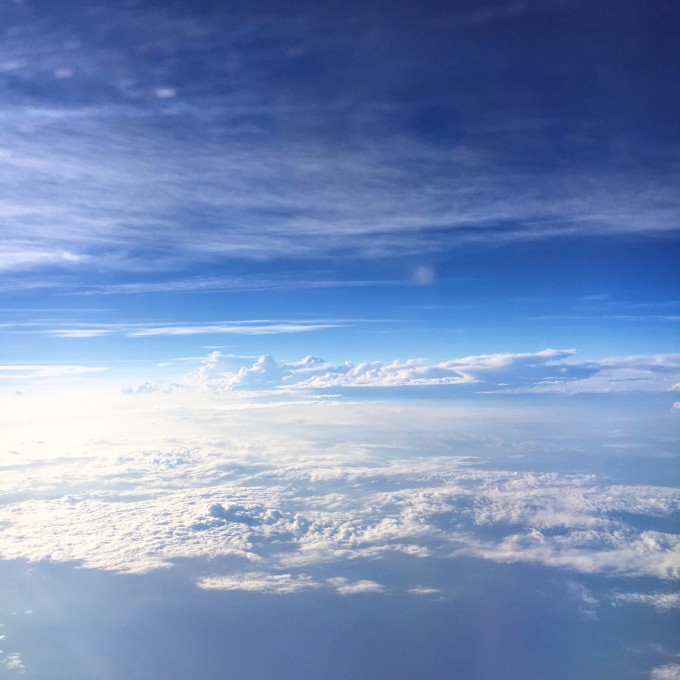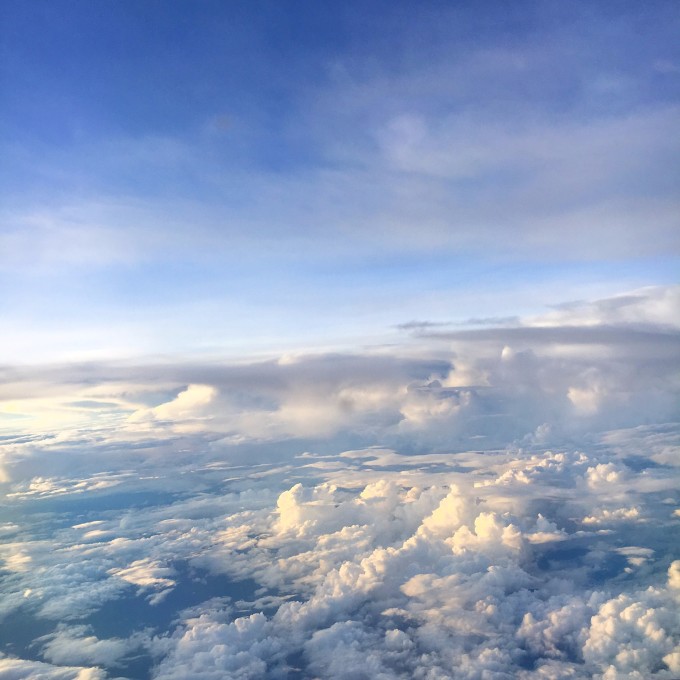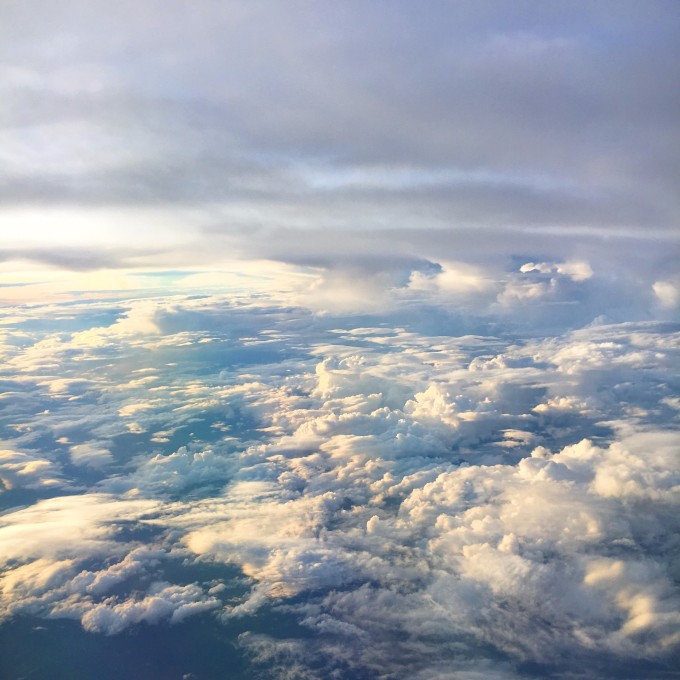 Fly to Chiang Mai about three hours to reach Chiang Mai airport After receiving luggage, probably more than 7:00 local time. Chiang Mai time is 1 hour later than domestic.
The homestay for the first night was thank u house, the address was in the ancient city, and the owner was Leo. The person was very nice and helped us to pick up the airport, and when we got off the plane, the car took us directly to the hotel. People are very enthusiastic and know a lot of things. Many times, just ask them where they want to go or what they want to eat. His latex pillow is so sleepy! The only hotel I want to go to again because I missed the bed. If it weren't for the next hotel to pay in advance, I would really like to stay at his house every day.
I didn't have time to exchange money in China before, so I went directly to the boss to exchange baht.
The day I went was just in time for the weekend night market.
Everyone has seen a lot of photos of the weekend night market in other travel blogs, so please send a few pictures. I didn't shoot very well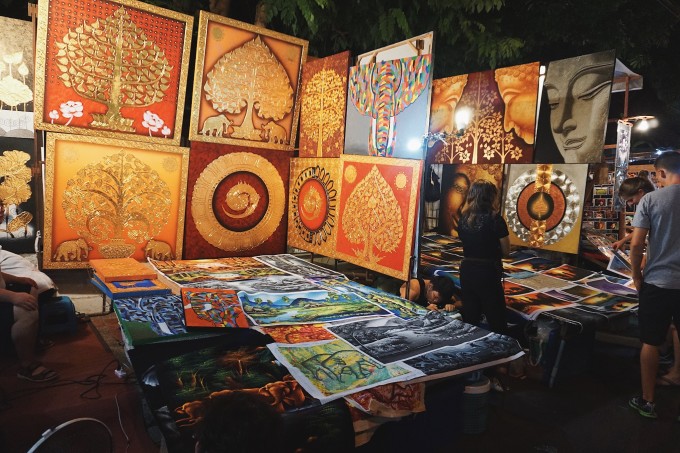 Phnom Penh weekend night market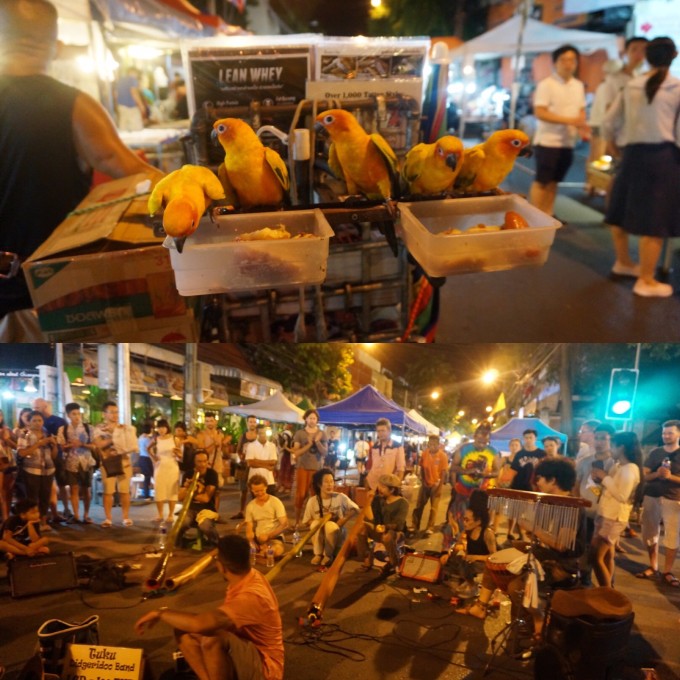 Phnom Penh weekend night market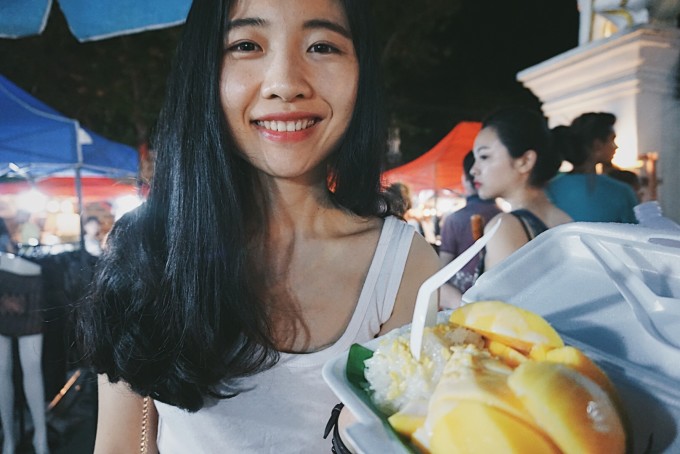 Phnom Penh weekend night market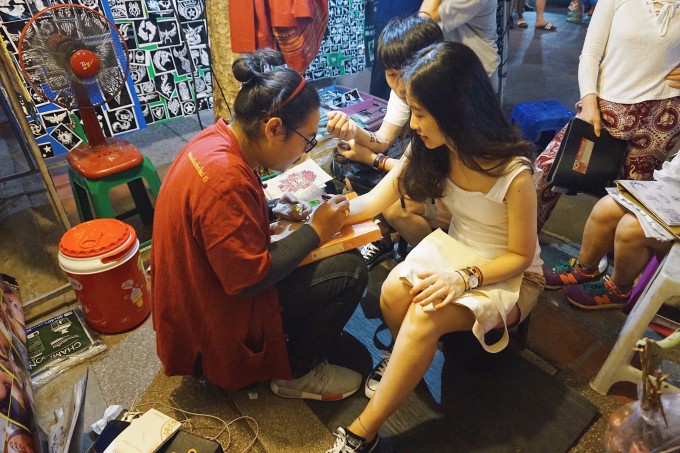 This time I feel that the quality of the weekend night market has deteriorated. As far as the food is concerned, the taste is worse than that of ordinary roadside stalls. It is probably the reason why there are more tourists. After eating mango rice, coconut and pineapple, I finally went to get tattoos.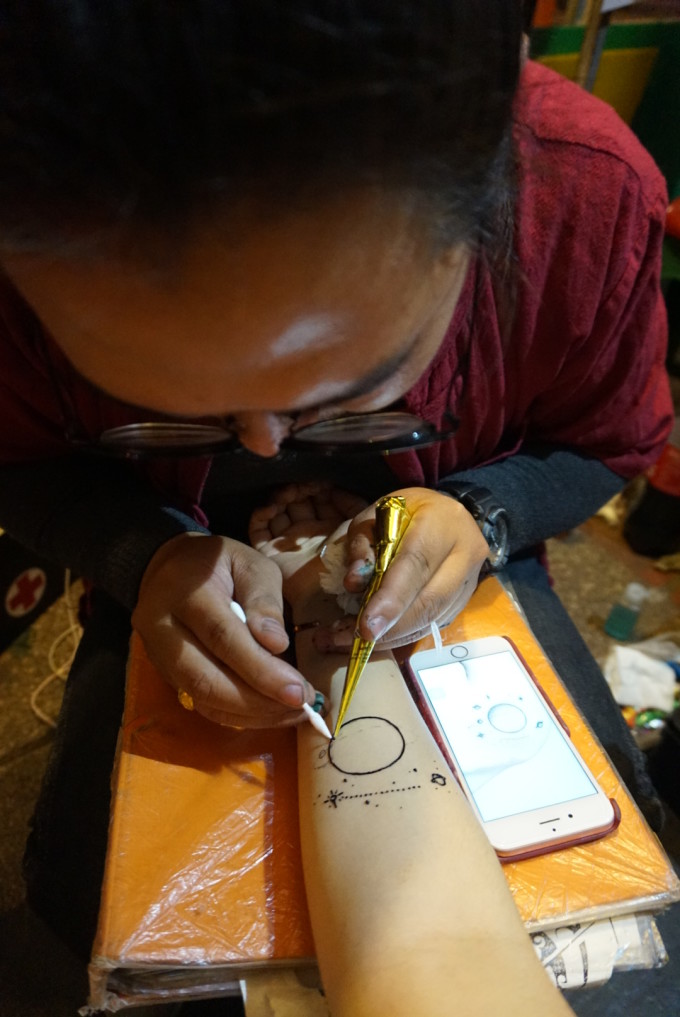 Phnom Penh weekend night market
There are two types of Henna tattoos, one with spray and the other with painting. The price of the painting will be higher. You can give him any pattern. The price is determined by the difficulty of the pattern. The price of spray is relatively low, generally around 50 to 80 plants.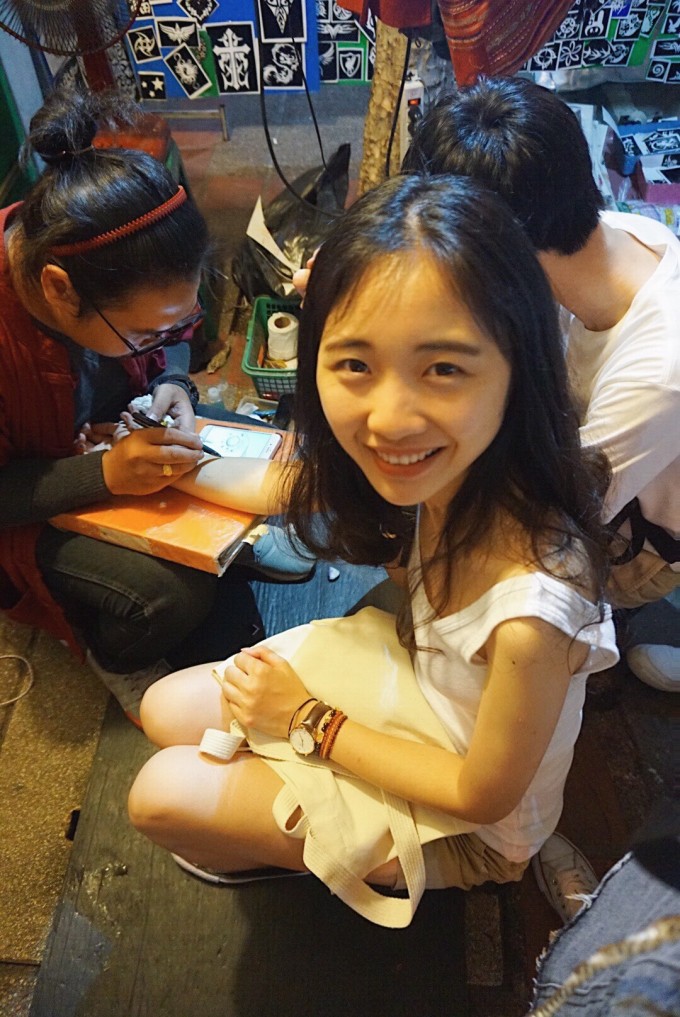 Phnom Penh weekend night market
I bought two handmade canvas bags, handmade, many styles, each one is different.
I went to 7-11 before returning to the homestay. It's a great place~ There are so many kinds of snacks and drinks that are delicious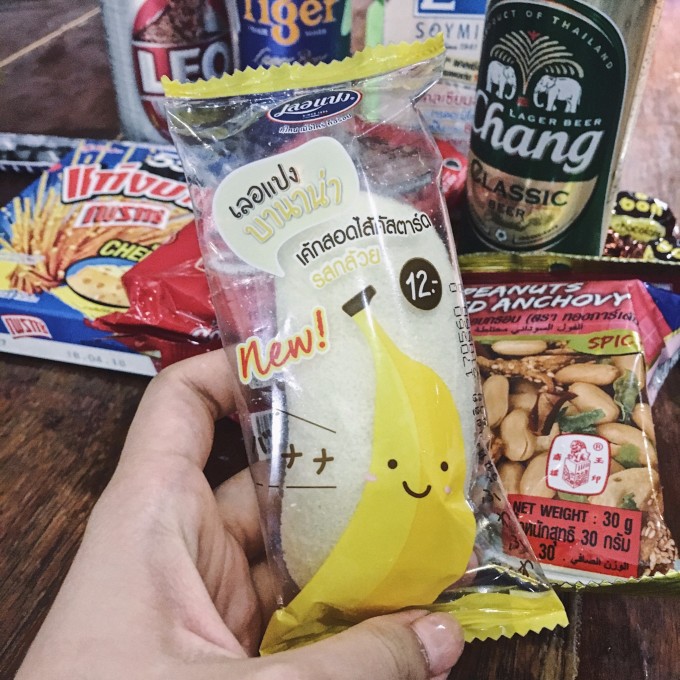 DAY2 :( Chiang Mai -PAI)
morning 8:30 to go Pai car, it is already 7:30, and quickly wash the lot down to breakfast.
The breakfast at Leo's is very fast, and aya's car arrived just after the breakfast was ready.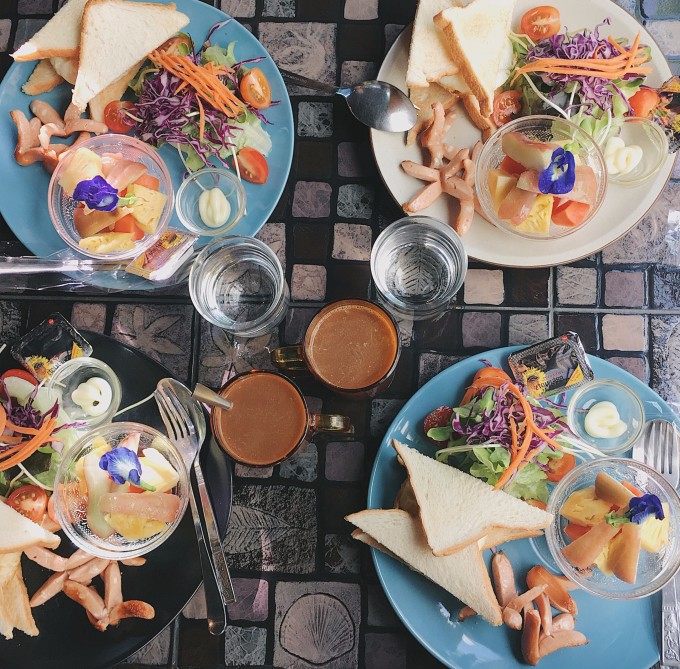 Thank you B&B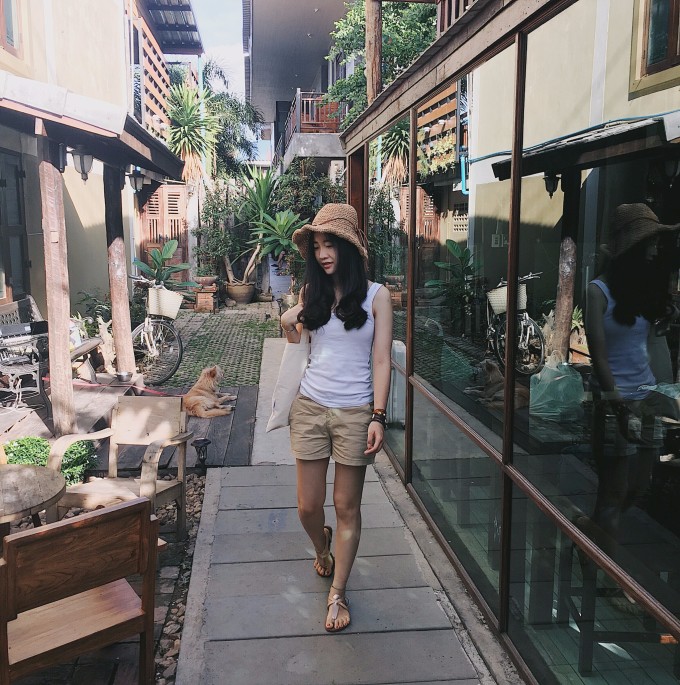 From Chiang Mai and from Pai are elected aya car.
The last time we booked a ticket on WeChat before leaving the country, just write the time and hotel. This time I went directly to the station to buy it. No matter which way you buy the ticket, aya's car will be picked up at the accommodation hotel, which is very convenient.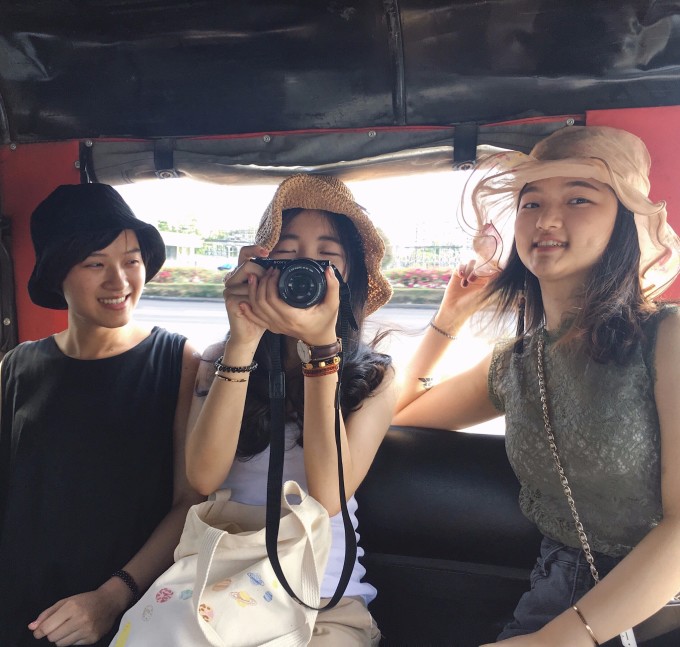 Thank you B&B
Chiang Mai -Bai has 200 tickets per person. The
car is good and new, and the driver is stable. I posted a motion sickness sticker in advance and there was no motion sickness. No one in the same car vomited. The whole journey is about 3 hours, and there will be a 15-minute stop in a small shop in the middle.
This small shop sells snacks and some simple meals. We bought popsicles and dried bananas.
More than 300 around the bend and finally to Pai up!
The car is parked in front of the aya service, and you can get a free map when you get off the car.
aya service is a travel service company, the store can rent a car, the newspaper group tour Pai , you can also buy Pai round Chiang Mai, tickets and so on, are very convenient. The shop has Chinese service and it is also close to the night market at night.
To Pai time about 13:00 and more, to find the time to do the Raiders before already behind the restaurant, wore giant hot sun, looking for a aya service from the nearest restaurant.
In fact, for Pai car it is heavy rain, the impression that it is very general time, the last time to come. It's a bit trendy and messy. Although it was a sunny day, I was a little reluctant to go to the restaurant.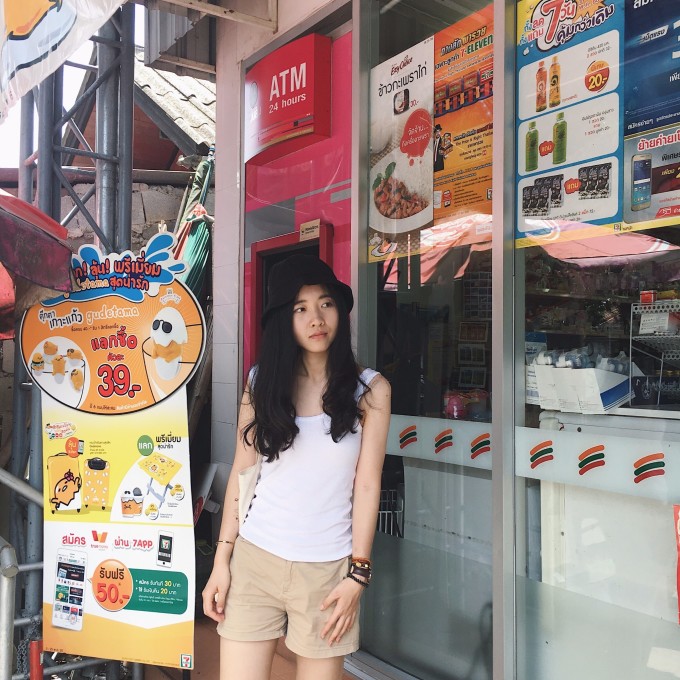 Pai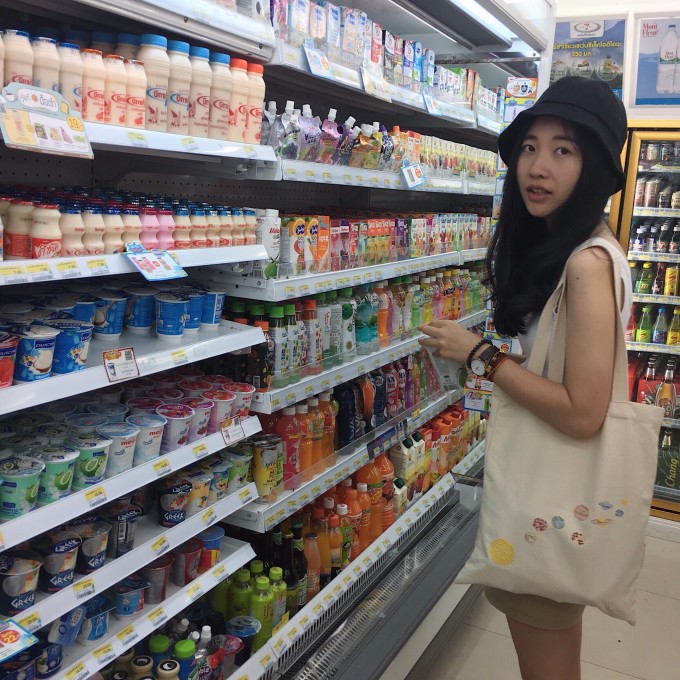 Pai
Good rice restaurant
mark the entrance is the "spit several times and finally to Pai " and the boss's head, directly to the shop attendant ushered into a room with air conditioning. This time completely overturned my last impression, the dining environment is very clean~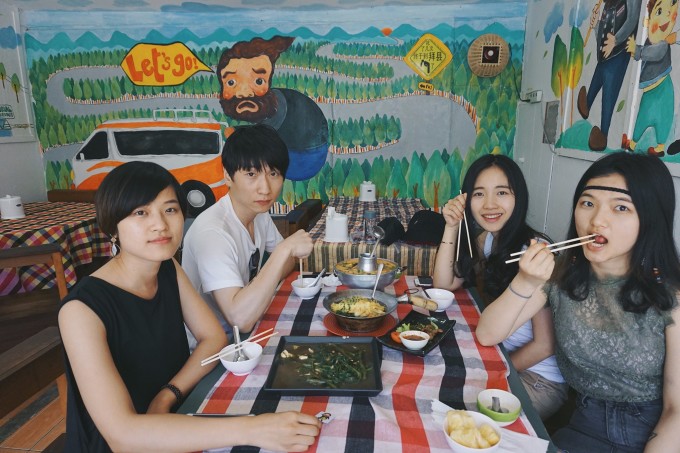 Pai
I ordered three-in-one fried rice, mango pineapple and coconut meat, and then choose a meat fried rice.
The roasted pork neck is delicious, not greasy and tender.
Steamed red non-fish is not recommended. It has a strong fishy smell and no taste. Basically no one touches it. Do not try seafood, minefield.
There is free tea and fruit, the meal for the entire Pai consumption is slightly higher, probably more than 200 yuan.
After dinner, I called the romance front desk, and soon there was a double car to pick it up.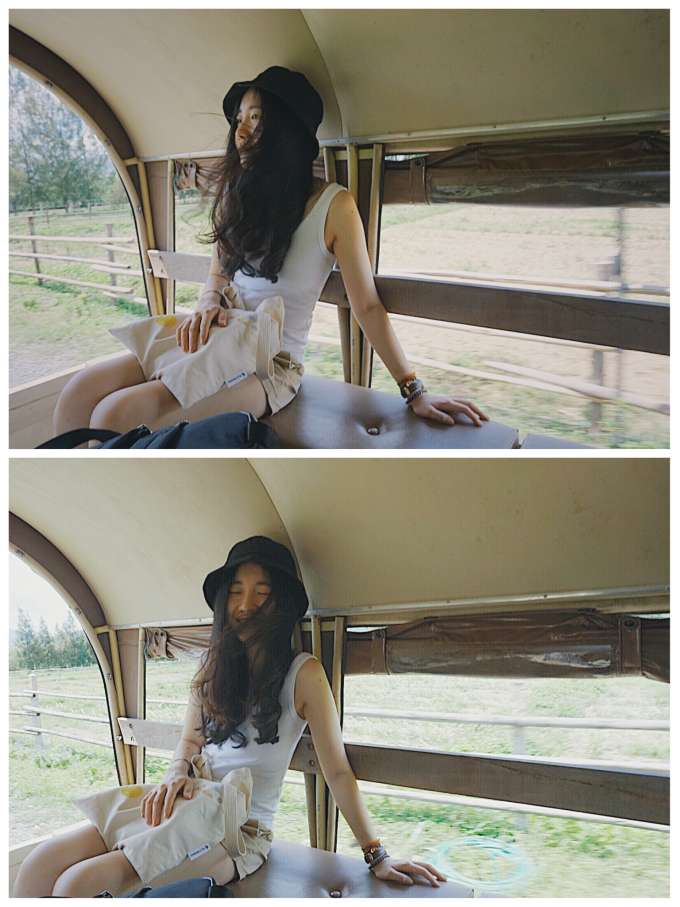 Pai
Ice orange juice is available as soon as you arrive at the store~ Too sweet! The guy at the front desk speaks Chinese very well, and the people are very enthusiastic, and his smile is simple. After check-in, you will be asked to choose the breakfast for the next day one day in advance, and then a small sightseeing car will be delivered to the door of the room. Each small house is an independent field cabin.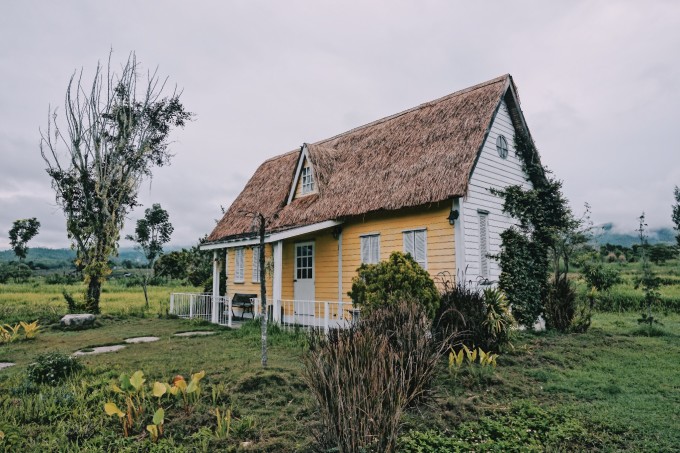 Romantic Farm Resort Pai
Not many hotel rooms, each of them has its own design style, the room Mediterranean -style decoration is very warm, you can experience the farmer's life -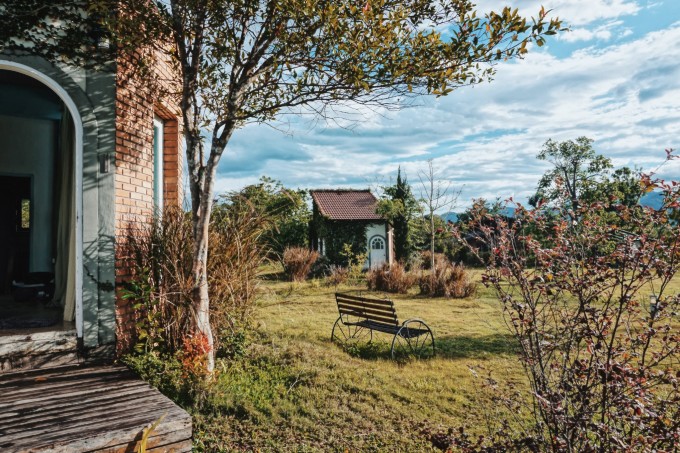 Romantic Farm Resort Pai
After washing up, I wanted to take a photo, but suddenly it rained heavily. In desperation, I took a selfie in the room and waited for the rain to stop. The air is really fresh after the rain! I also saw a rainbow.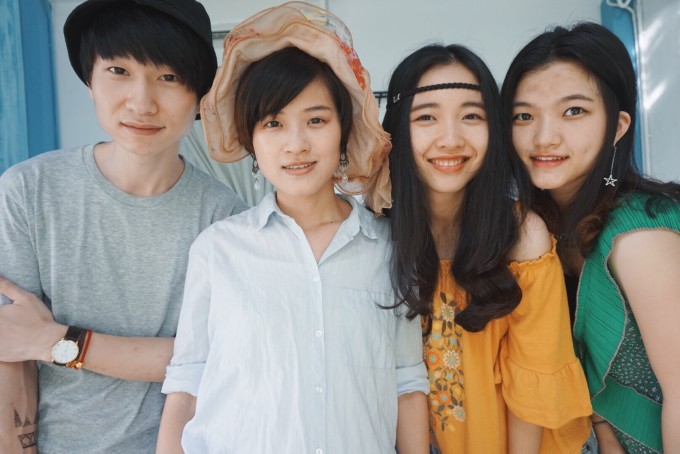 Romantic Farm Resort Pai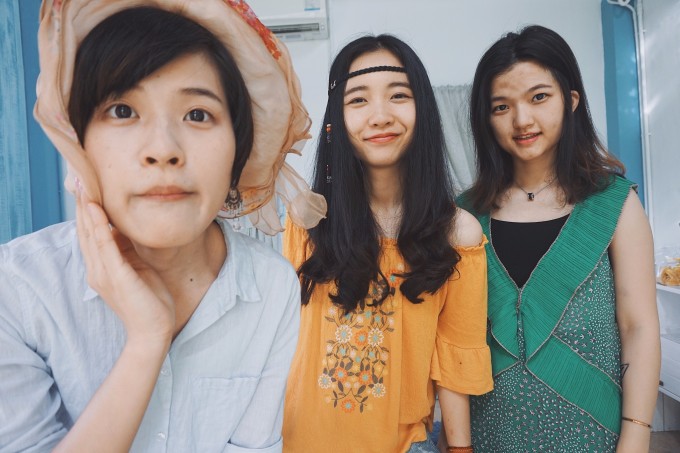 Romantic Farm Resort Pai
There are sheep, cows and rabbits in the pasture. I originally wanted to shoot lambs, but the sheep pen was closed after the rain.
There are also large tracts of rice fields, like a large manor in a fairy tale.
The only disadvantage here is that it is not convenient to eat. If you are going to the town, it is recommended to buy some food before you come. If this is the case, you will not be used to run back, and you can enjoy the manor life.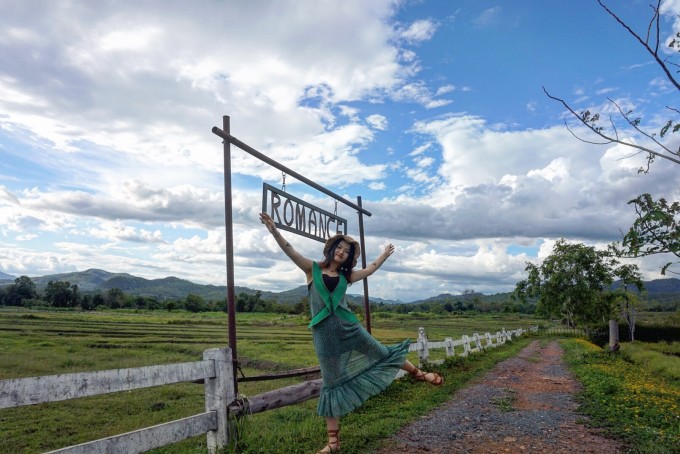 Another romantic story farmhouse in Pai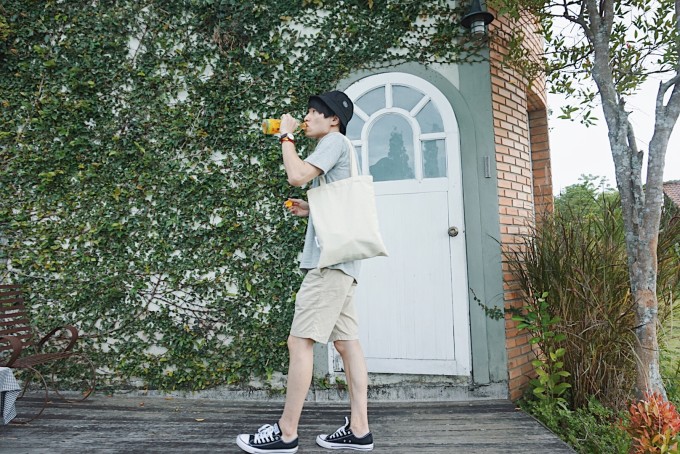 Another romantic story farmhouse in Pai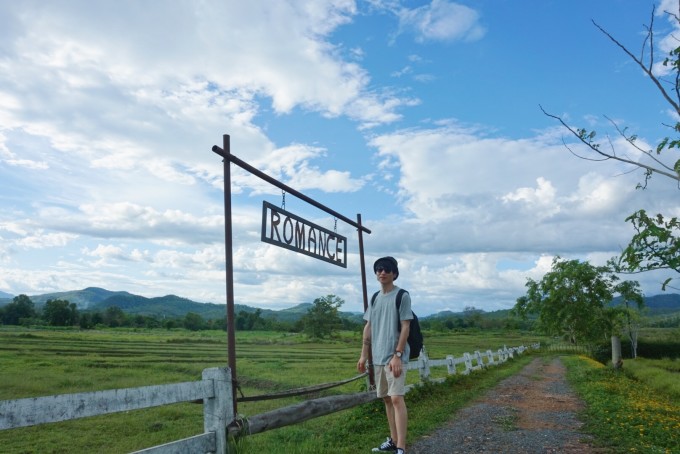 Another romantic story farmhouse in Pai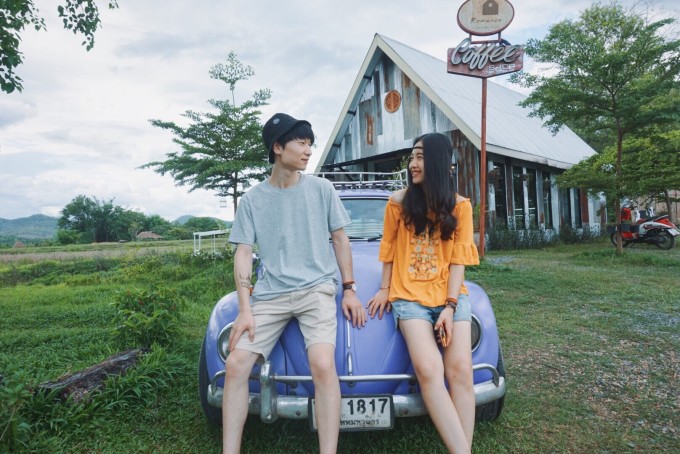 Another romantic story farmhouse in Pai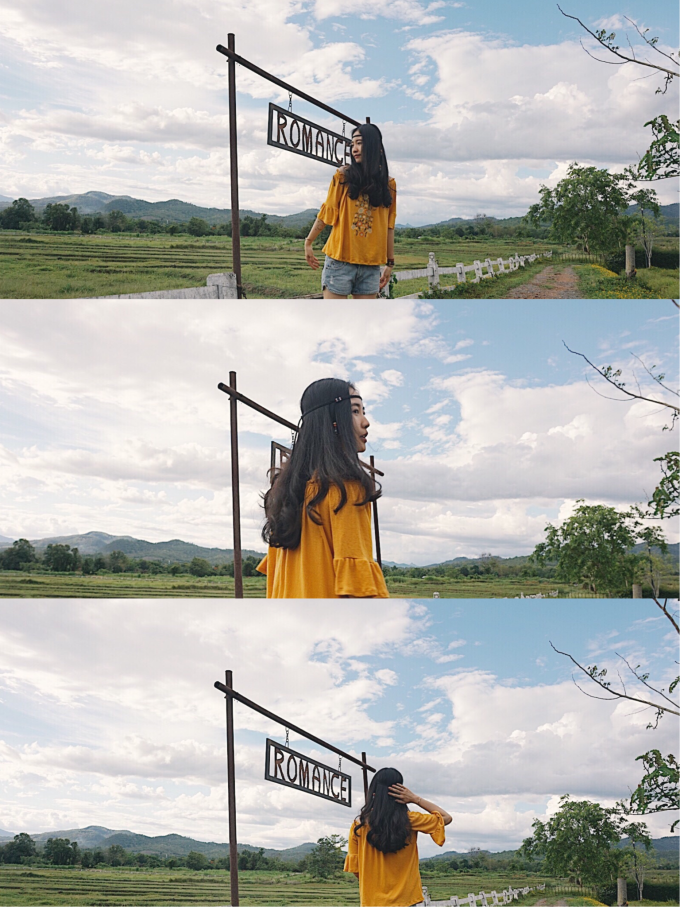 Another romantic story farmhouse in Pai
For dinner, I went to one of the most delicious western restaurants in town and
took the Romance shuttle bus to the door. The store is so small that I haven't found it after walking through it several times. When we arrived, the boss and his family were chatting outdoors. Because I was afraid of mosquitoes, I chose to eat indoors, and there was a lot of red wine in the store.
The menu is very simple, with only two appetizers, four main dishes and drinks.
The proprietress is very temperament~ I listen to her recommendations for eating.
I ordered the mushroom pasta, and 4 people ordered an appetizer, a mushroom pasta, a seafood pasta and a salmon pasta. They also ordered 4 glasses of homemade red wine.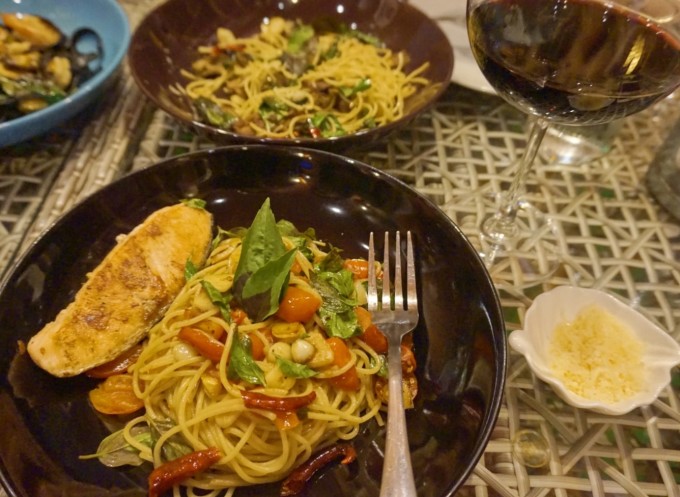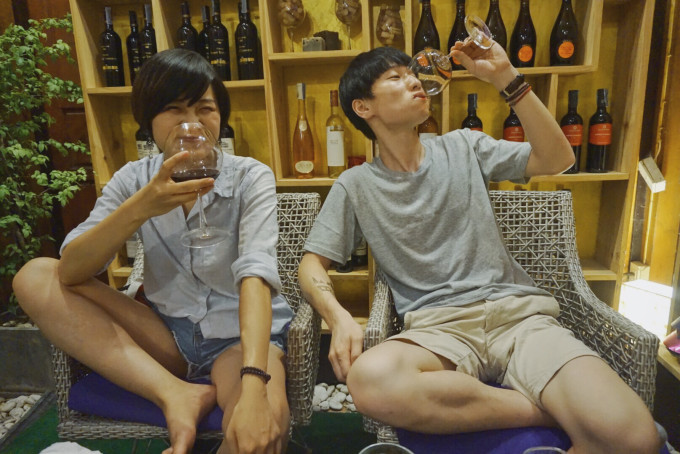 I highly recommend the mushroom pasta, a huge recommendation~ I don't really like the taste of mushrooms. The mushrooms are well marinated, they are very beefy in taste and appearance!
The self-brewed red wine is a bit strong, but not astringent. Shaking it will hang the cup, which is still a bit of an upper hand for me.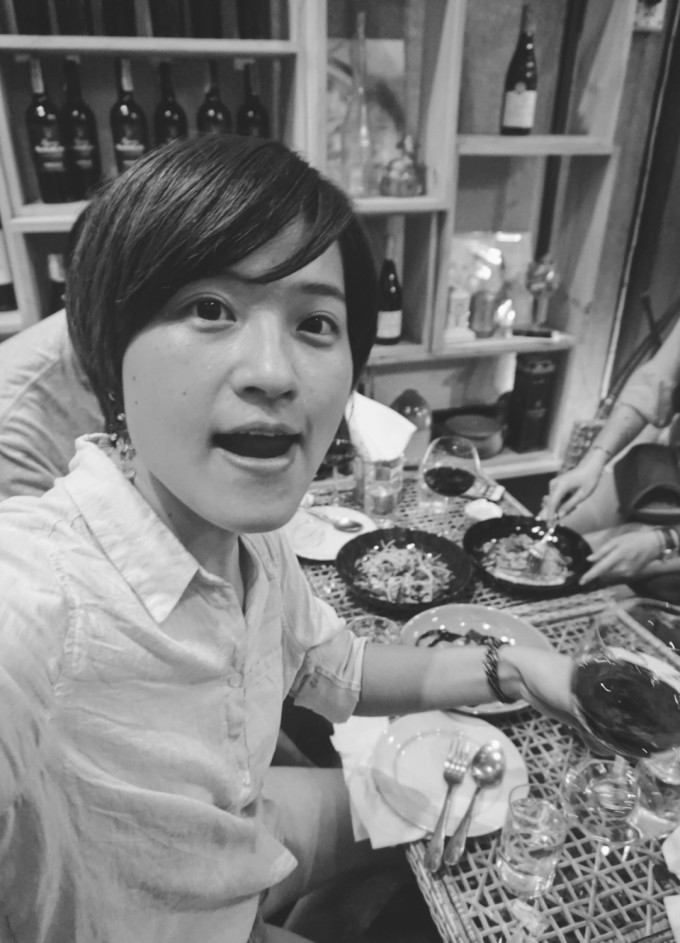 Here again, I would like to praise the lady boss, she is good-looking and friendly, and takes care of others. During the meal, always come over to add water to us and ask if we are satisfied. A very very very recommended shop. This meal is about 256 yuan.
After eating, just went shopping at the night market and went back.
DAY3: (PAI riding)
Romance includes breakfast, except for the staple food selected yesterday, the rest of the breakfast is self-service.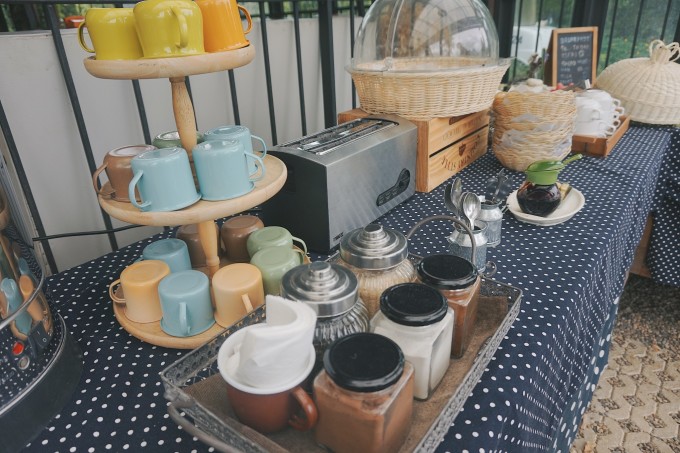 Another romantic story farmhouse in Pai
The eyes are full of green outside the window, and the mood is particularly good~
Breakfast has milk from our own farm, but it is iced~
Compared with scrambled eggs, fried eggs are delicious, and fried eggs are delicious! Fried eggs are delicious! The important thing is said 3 times. I haven't tried porridge, so I can't give a comment~
Romance has a fixed pick-up service to the town. The pick-up and drop-off is free during these periods, and the pick-up and drop-off service at other times will be charged 150B/person.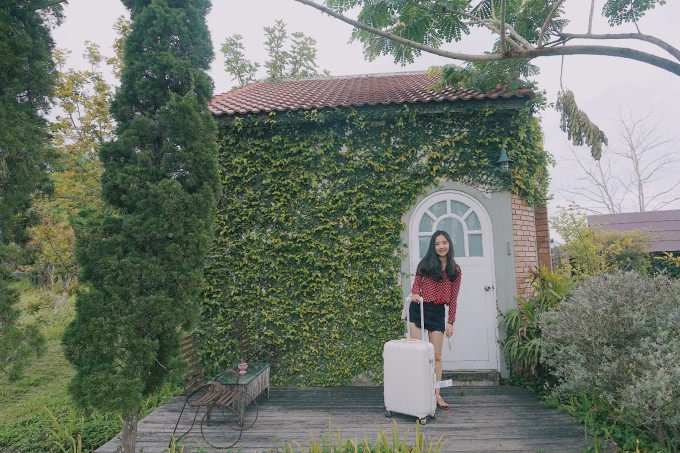 Another romantic story farmhouse in Pai
Another romantic story farmhouse in Pai
We sent the luggage to the aya service and rented the locomotive directly in the store.
In Pai basically do not have to worry about the car is not a problem, then directly to rent, even if aya no car, do not worry, Pai streets are car rental shop. Aya's cars will be older and their styles are relatively ordinary. I regretted seeing the cool motorcycles in other stores afterwards.
If you rent a car, you can mortgage your passport, or pay a 2000 deposit. The car is 140B a day, the helmet is free, a deposit is required, 100B one. You can choose the style and pattern you like, but the helmets are quite dirty, and some helmets are still wet. It is estimated that it is sweat, rainwater that has not dried.
Insurance can be purchased voluntarily, and we are more confident that nothing will go wrong so we did not buy it.
If you can't start the car, someone will teach you, Thailand is driving on the left, driving on the left, driving on the left.
A car with 50 oils is enough for a day.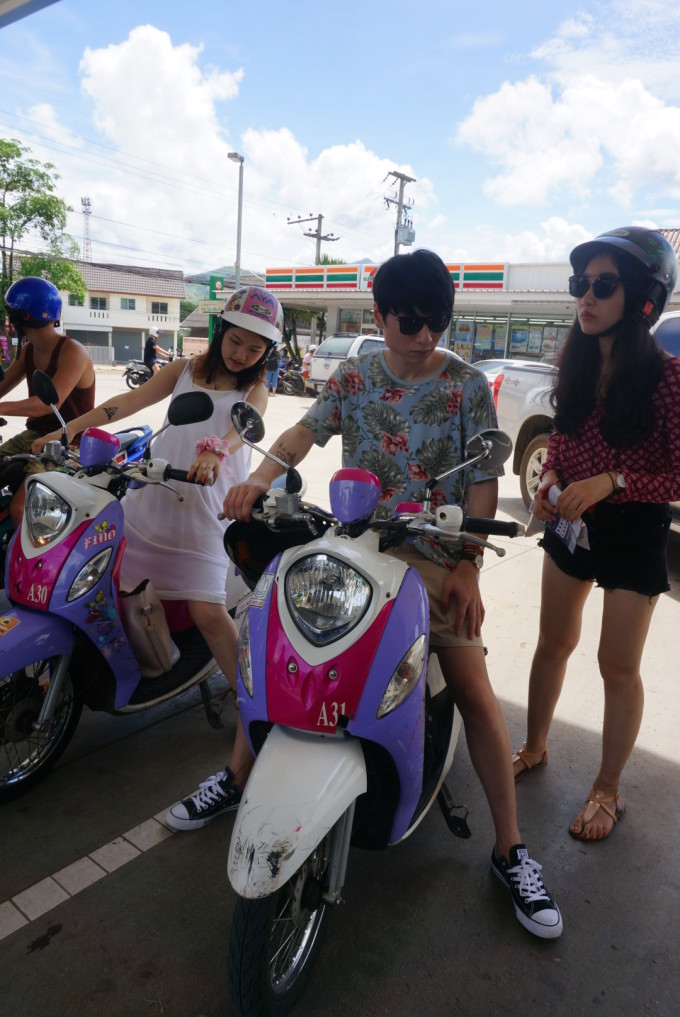 Pai
May Pai really too! show! Up!
We only went out after 10 o'clock, and it was already too hot by noon. There was still half of the journey that was not finished yet, and everyone decided to go back to the hotel unanimously for such a hot day. The facts proved that our decision was right, and it rained again! It rained all the time on the way back by bike, and there was no chance to experience this kind of experience in China, so I rode back in the rain. The fast speed and heavy rain were really exciting!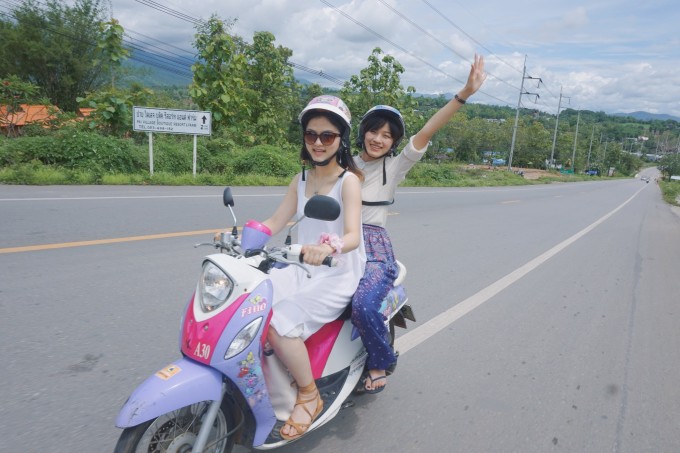 Pai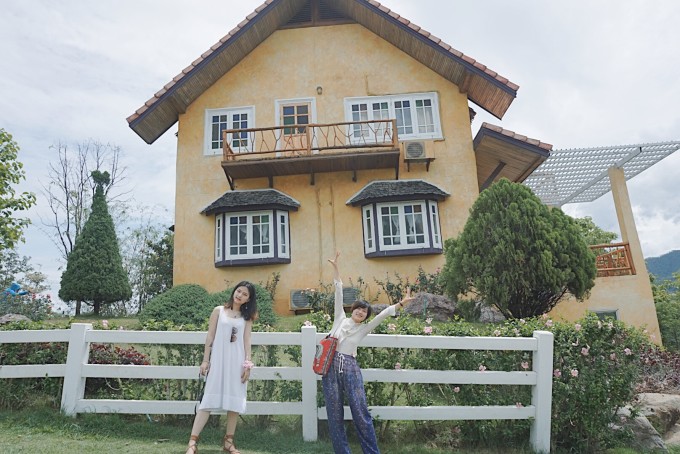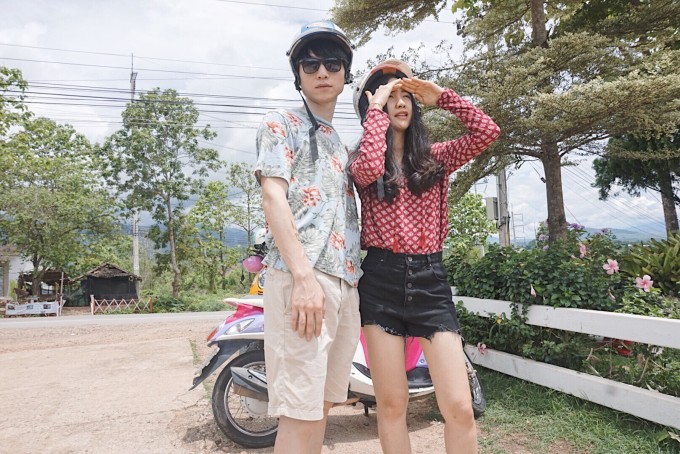 Pai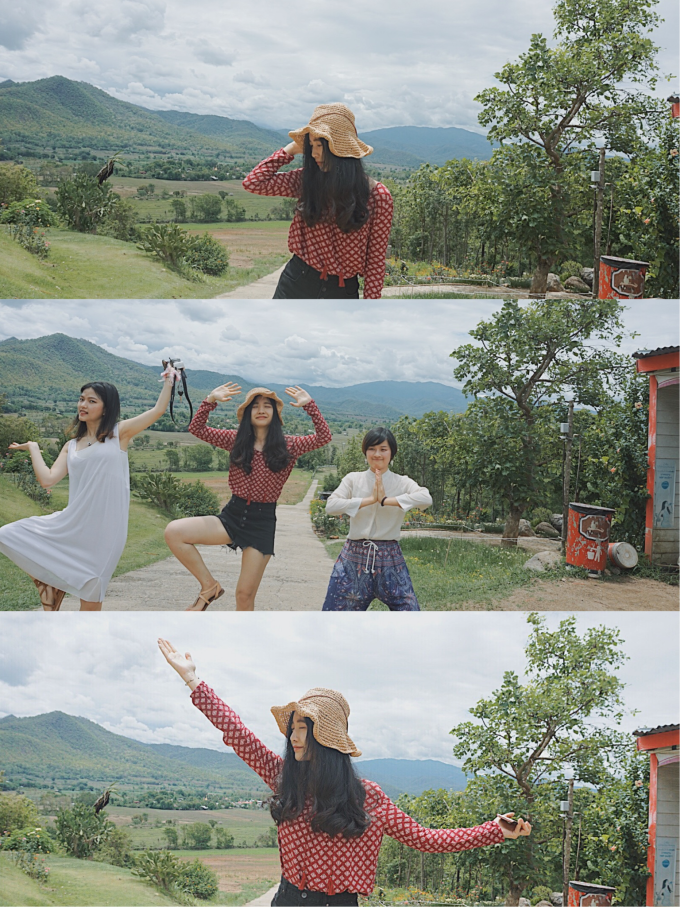 Pai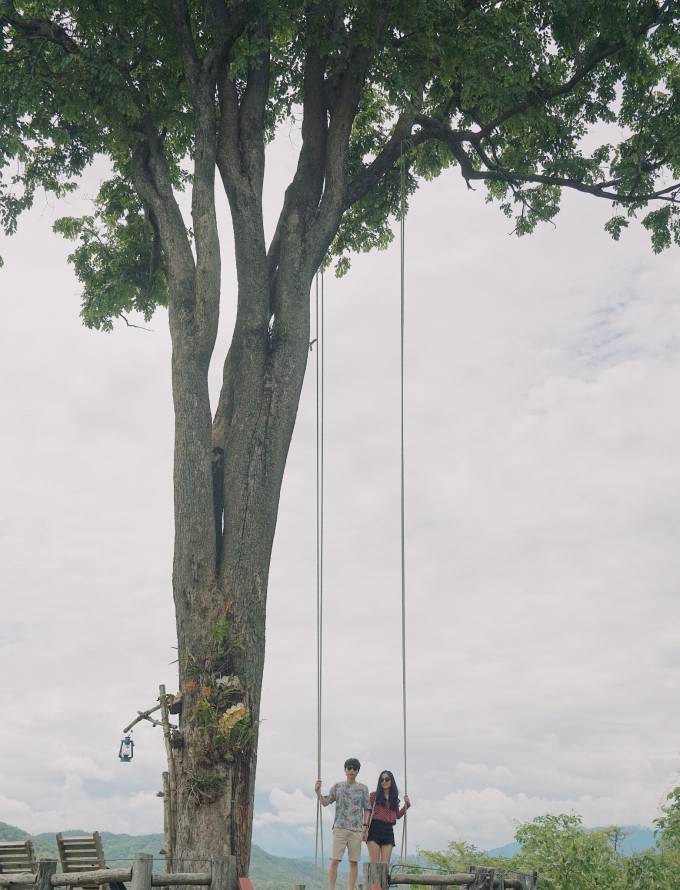 Big Tree Swing and Motel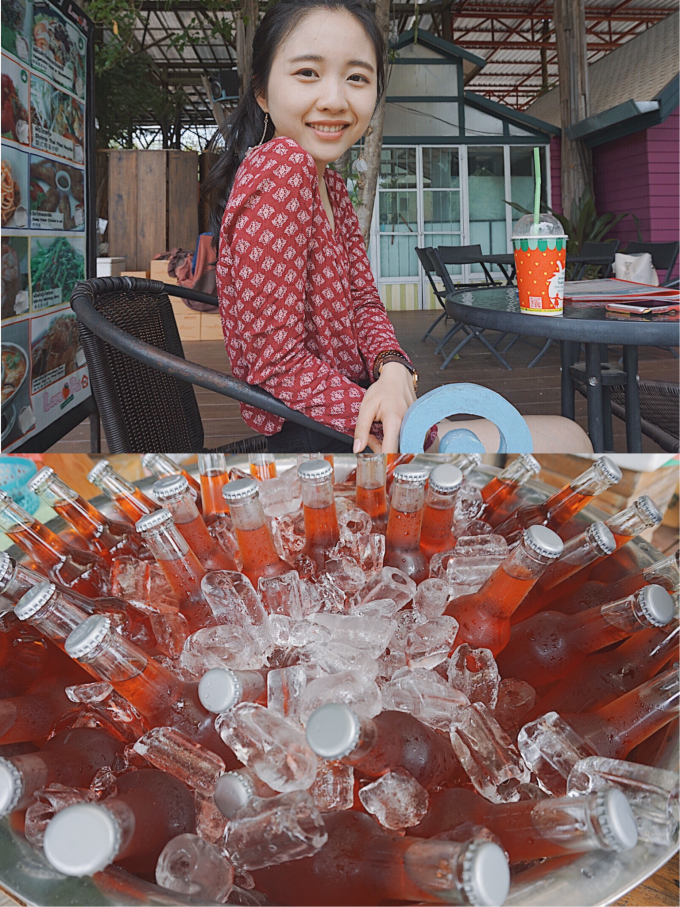 Pai fruit common than Chiang Mai cheaper to buy durian at a fruit stand, I can not eat durian so it will not look good or bad, accompanied by plump little friends say really crying ~
things 7-11 always so good Eat~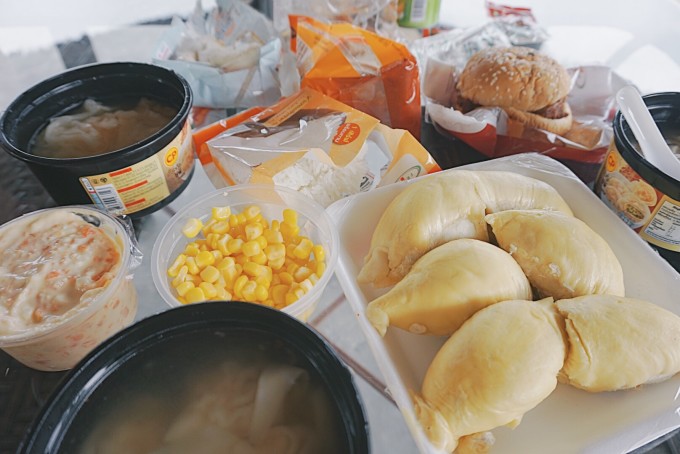 La Villa Khon Kaen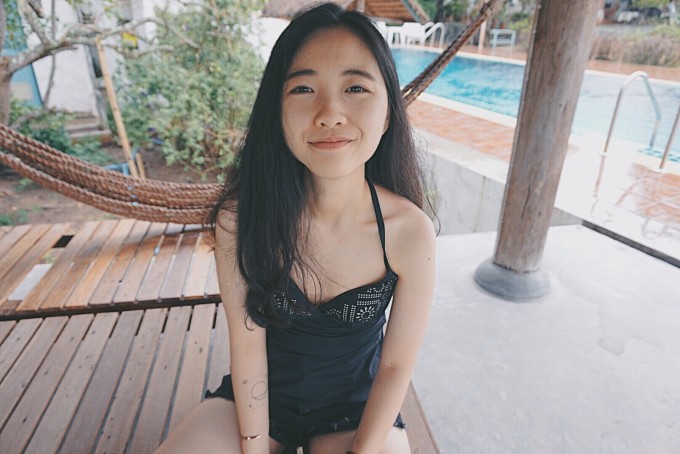 La Villa Khon Kaen
In the afternoon, I spent a leisurely afternoon at the small pavilion in Khon Kaen. I really enjoyed it.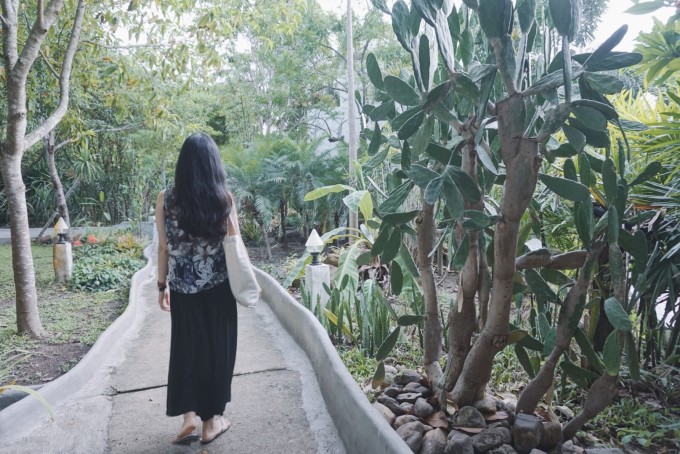 La Villa Khon Kaen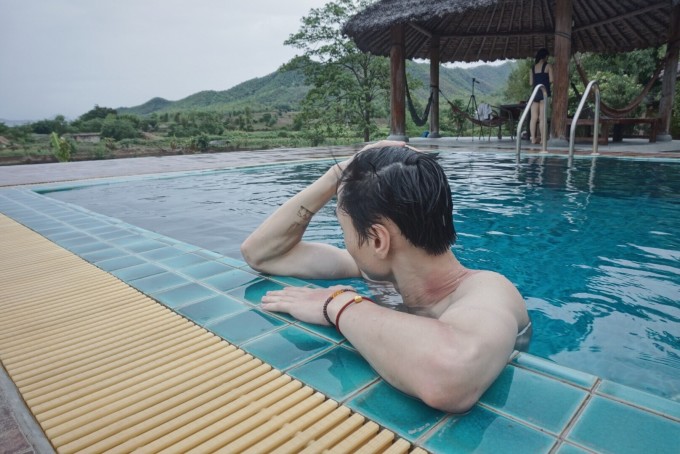 La Villa Khon Kaen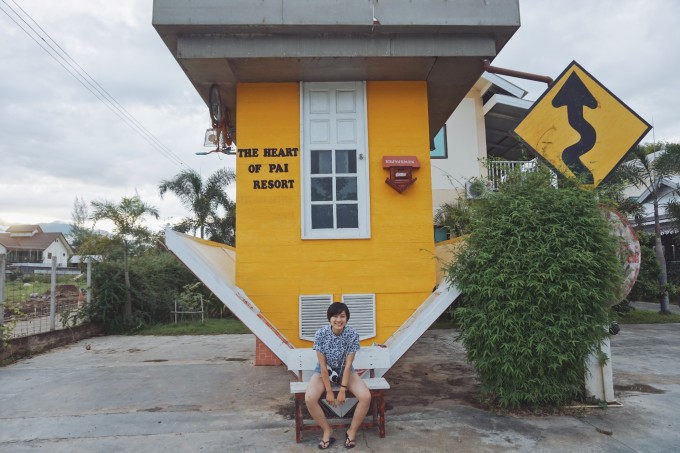 Inverted hut
In the evening, I rode to the night market by myself. The night market in Pai County is there every day. Compared to the size of Chiang Mai on Saturday the weekend night market is really a lot of small, full about 20 minutes left over.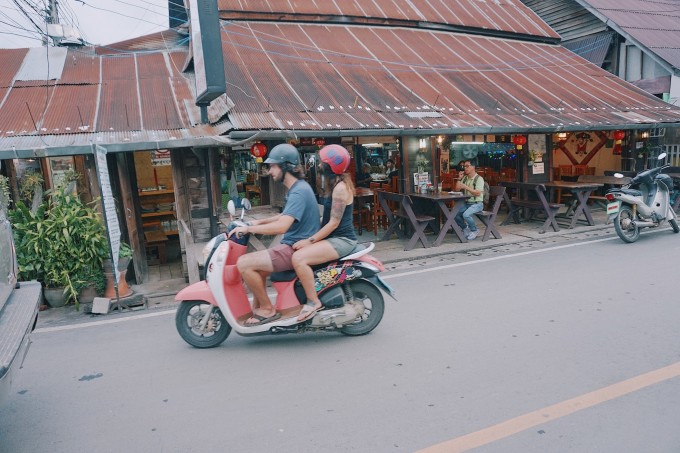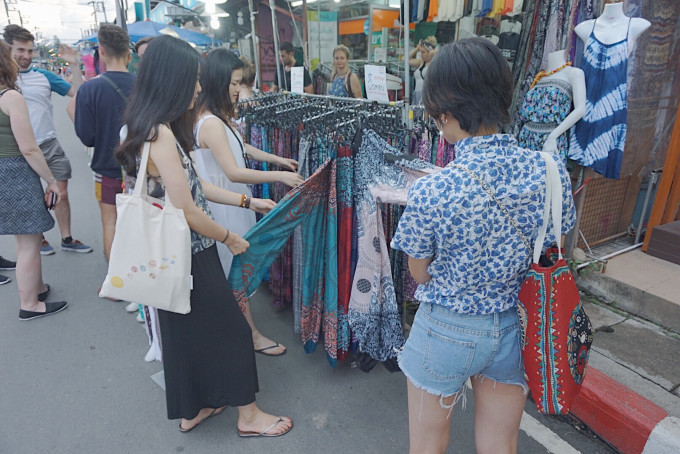 Pai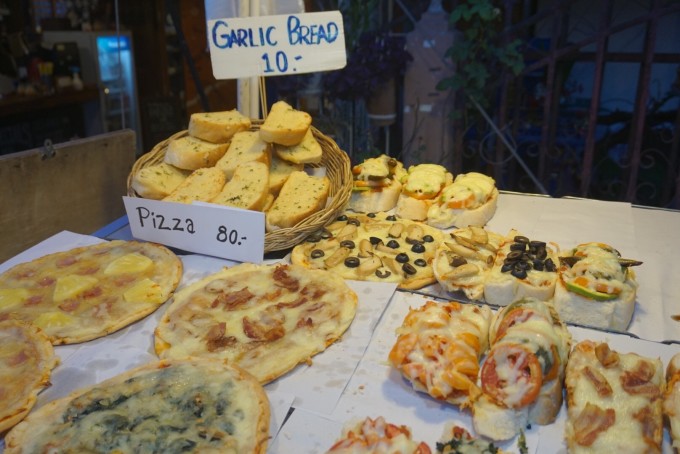 Pai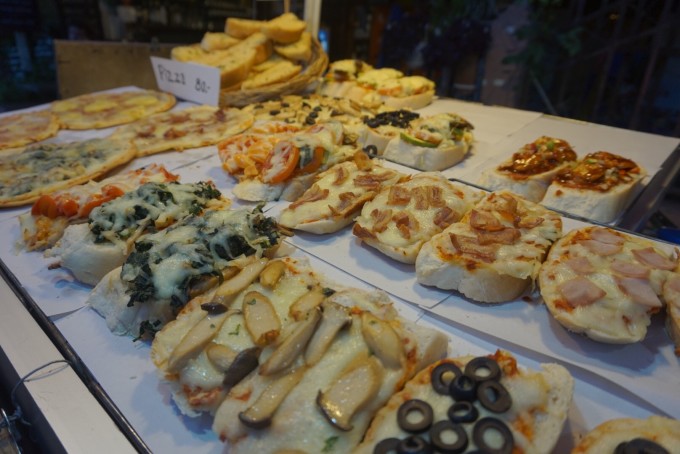 Pai
It was still early, so I randomly found a shop that made horses and chickens. As soon as we entered the door, a enthusiastic bald foreigner kept greeting us. The masters of this kind of shop were very free. It took about 5.6 minutes for the 4 masters to come together. Later learned that bald foreigner is owner of the store, from France to feel French pace of life too fast settled in Pai , in Chiang Mai especially in Pai . Many of these foreigners settle down and set up shops in the local area. Indeed, they seem to enjoy this slow-paced life.
After finishing the horse and killing chicken, I rode back to Khon Kaen. Khon Kaen is a bit away from the center of Pai' County. It takes about fifteen minutes to ride a motorcycle. I am a little scared to ride at night. There are no street lights for a long period of time. It is very dark and it is raining. , Really exciting.
After taking a shower that night, I found a layer of skin on my neck.
DAY4: (PAI— Chiang Mai )
It was raining again in the morning...
Today's character really exploded. When I arrived at the station, I found that the 9 o'clock car had already left, so I had to buy the 11:30 ticket again.
Here is a reminder that if you can't arrange the time to aya very accurately, it is best to buy tickets on the spot. AYA has provided Chiang Mai and from PAI ticket booking service, hourly intervals, very easy.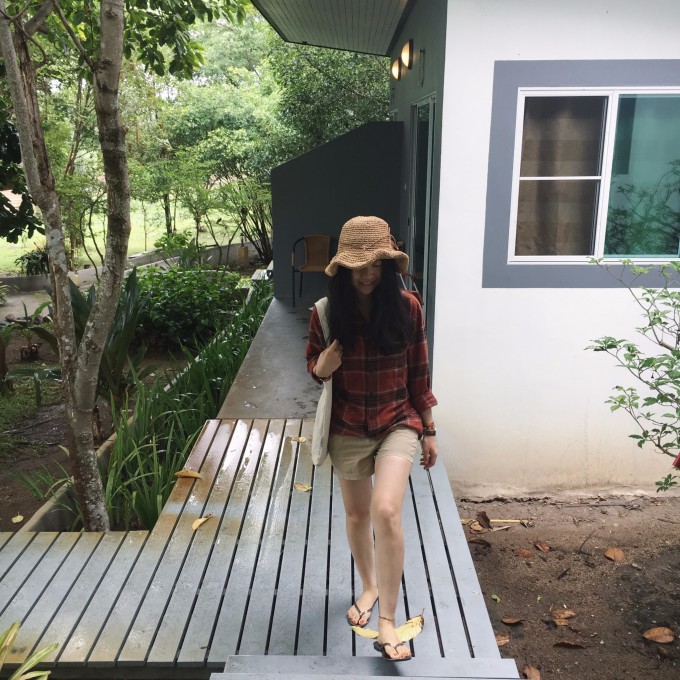 La Villa Khon Kaen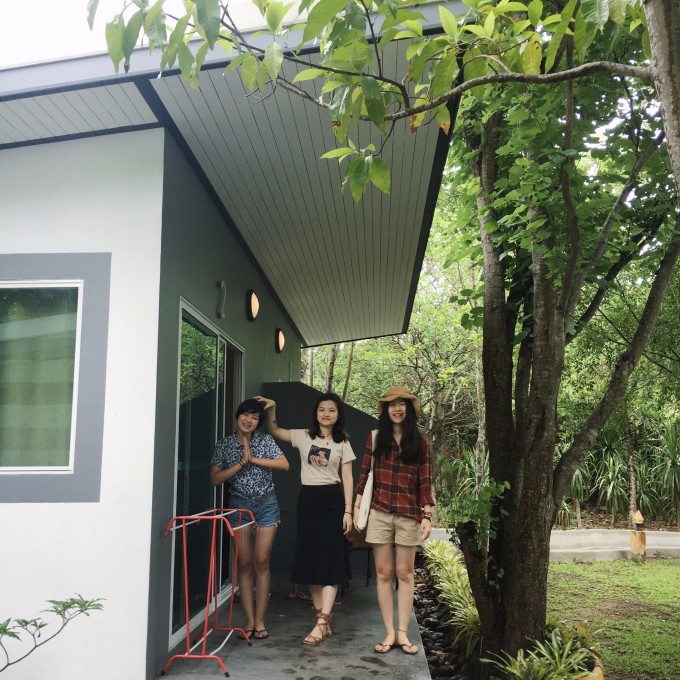 La Villa Khon Kaen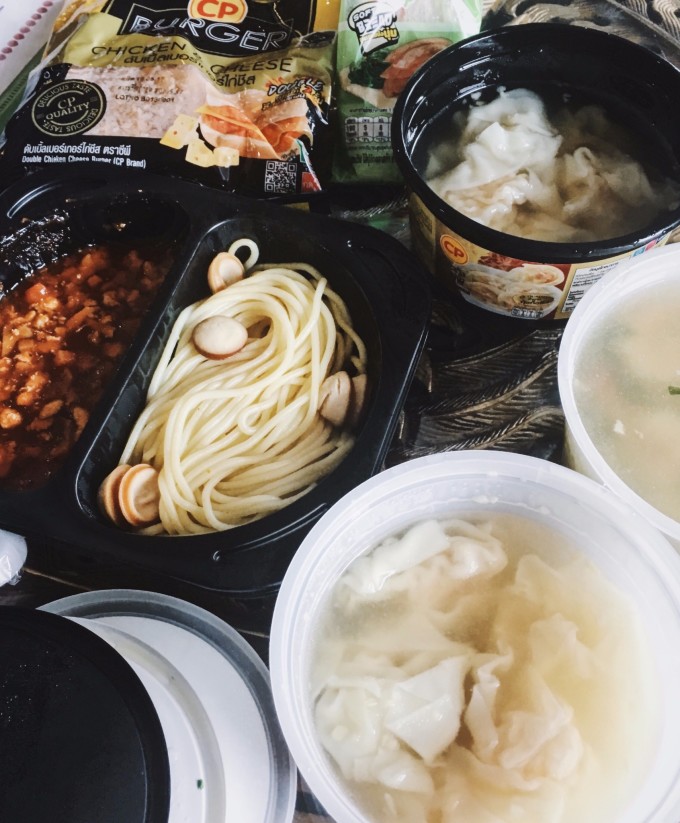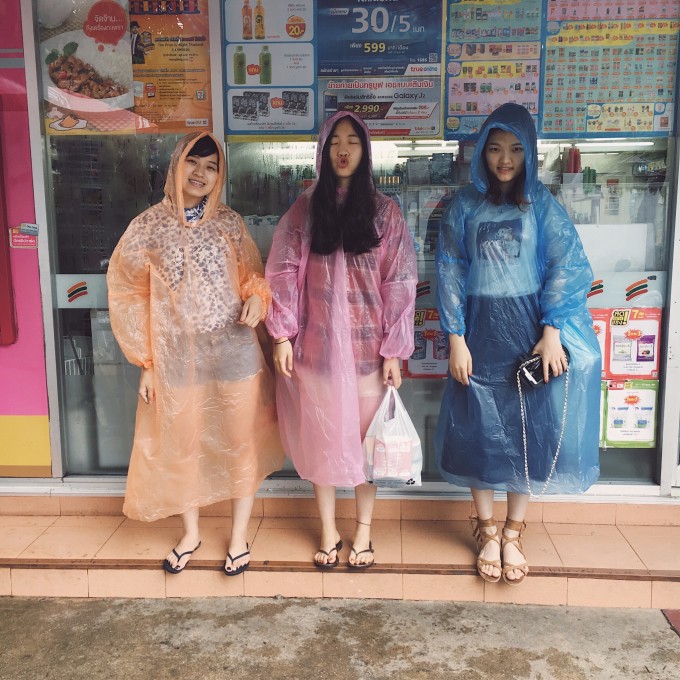 The way back is always fast. I don't know why the return ticket is only 150B per person. Sleep a few went to sleep, back to Chiang Mai is sent to the designated location (one of three: one at the Thapae Gate aya in a station, there is a case where there is no serious look) Most people will choose Thapae Gate go The surrounding attractions are more convenient.
We got off at Thapae Gate and took a taxi to the bed hotel .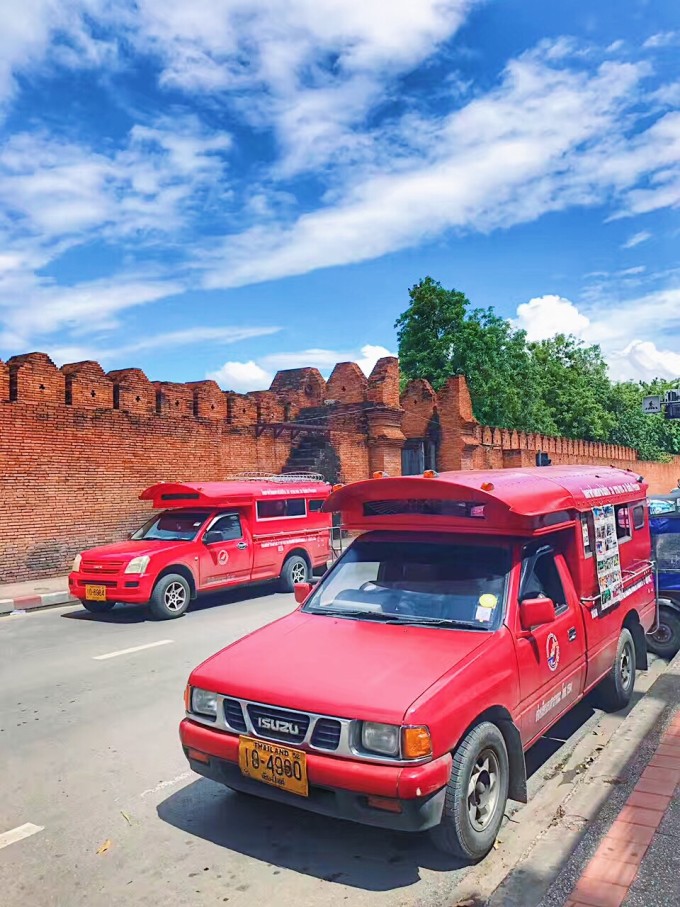 便宜好用的优步~~~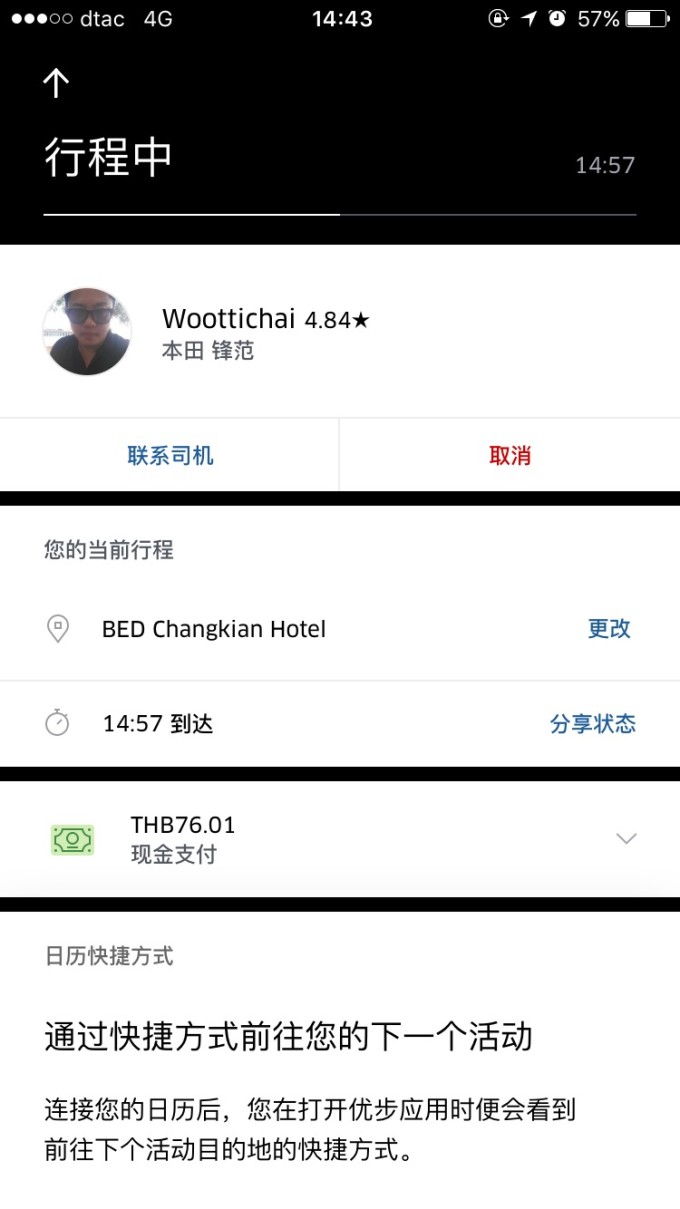 Bed
hotel more remote, in Chiang Mai near the university, some distance from the city. It was about 3 o'clock when we arrived at the hotel, and the check-in was quick.
I like the style and simplicity of the hotel. In addition to black and white, it is cold and windy, very suitable for young people.
The whole hotel is also a group of young people from the front desk to behind the scenes. Every day I see you smiling and responsive.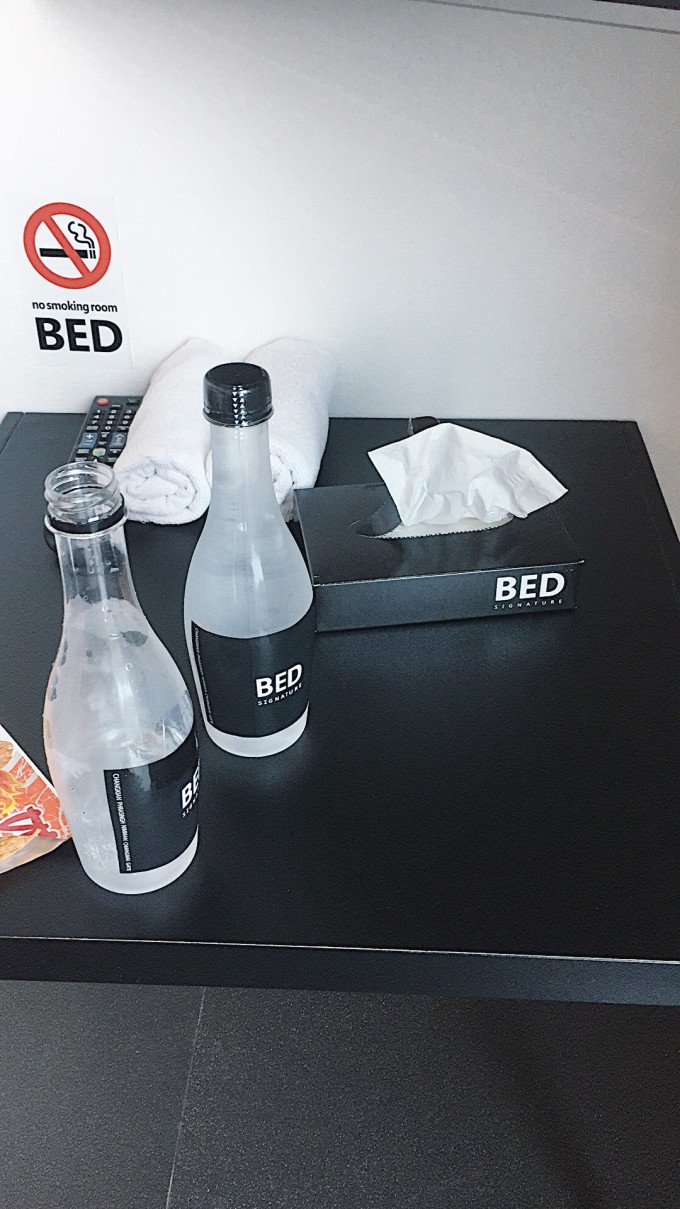 Charn Kiam Bed Hotel-Adults Only
In the floor channel have freezers, drinking water can not drink on.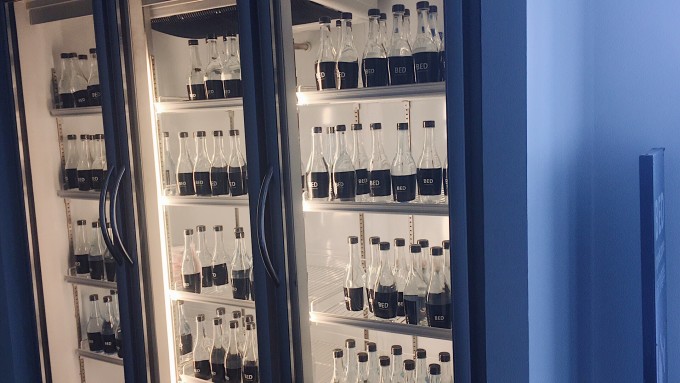 Charn Kiam Bed Hotel-Adults Only
The room is spacious and clean, with large floor-to-ceiling windows. The bathroom and toilet are separate. Toothbrush and toothpaste are not provided, so you need to bring your own. There are no slippers in the room, so you can only wash barefoot in the bath~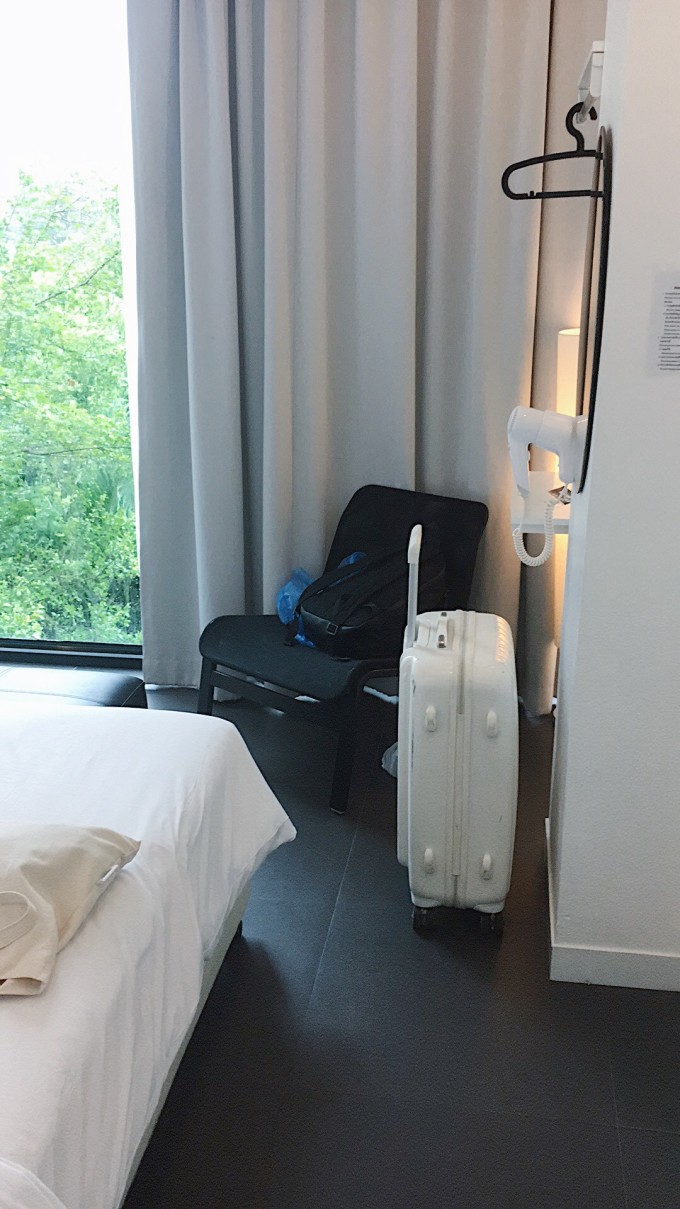 Charn Kiam Bed Hotel-Adults Only
Outside the hotel is a local market, we have been walking along the road about a 7-11,10 minutes to Chiang Mai University, 15 minutes to walk past maya point is Ningman road.
The downside is that the hotel has no windows and it is far from the city. Also close to the airport, the noise of the planes going up and down is loud.
After washing, I was hungry and time was surprisingly embarrassing. I bit my head and went to dinner at 5 o'clock.
Woo cafe
was full of expectations before I went there. It was raining heavily when I went, so I called Uber to the door. There is an open space at the door where you can park.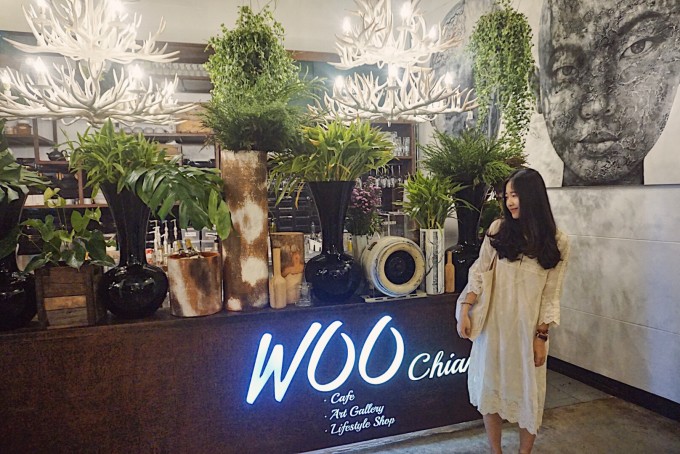 Woo Cafe-Art Gallery-Lifestyle Shop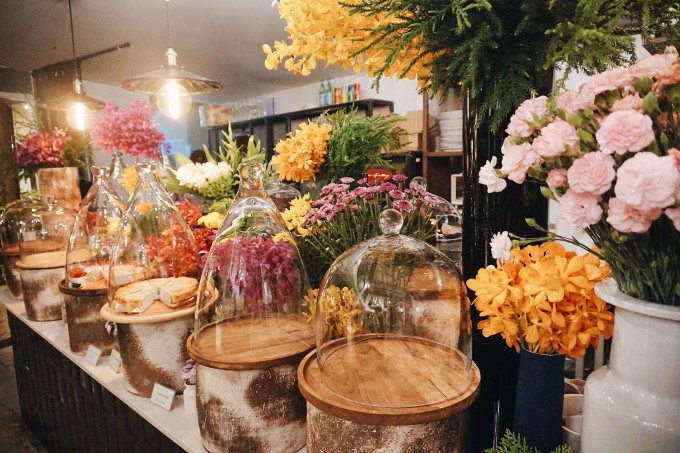 Woo Cafe-Art Gallery-Lifestyle Shop

The design of the restaurant is very beautiful, the inside is large, indoor and outdoor are decorated with flowers and lights, and there are flowers everywhere. The air-conditioning is cold enough and comfortable, and the wooden tableware used in the store is very textured.
Woo Cafe-Art Gallery-Lifestyle Shop
The whole shop is particularly exotic, single point of great temperament little brother also
called the Little brother recommended the store will point his family hottest rice salad was already sold out. It's a pity~ I
didn't expect such a high-value store at all, and I didn't expect that the appearance would be as good as the taste.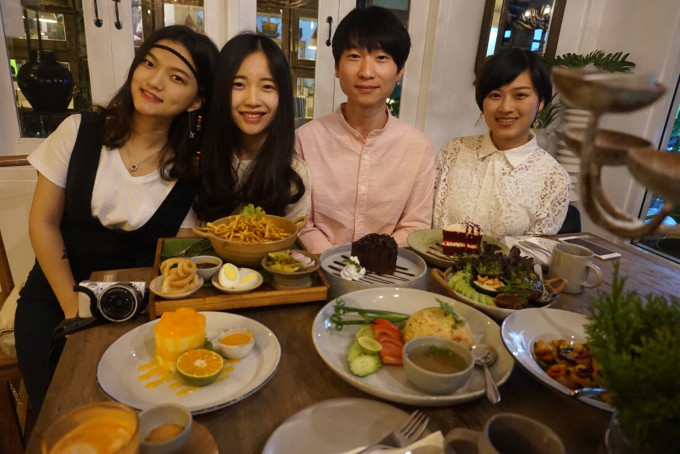 Woo Cafe-Art Gallery-Lifestyle Shop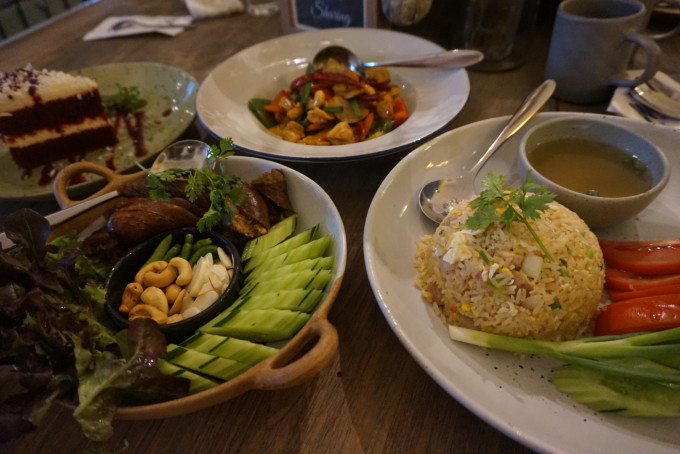 Woo Cafe-Art Gallery-Lifestyle Shop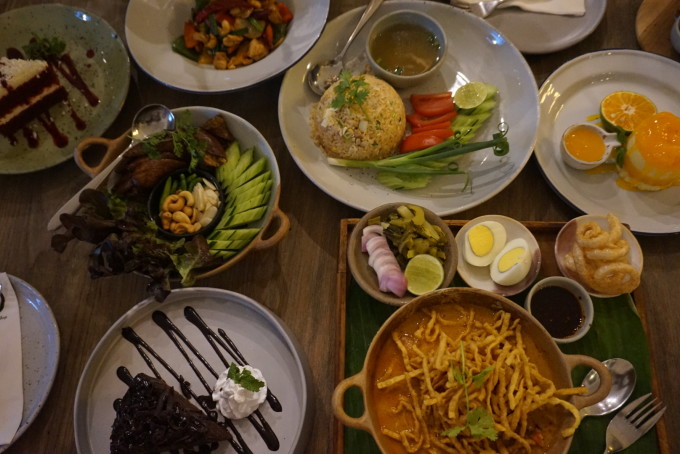 Woo Cafe-Art Gallery-Lifestyle Shop
There are many choices of desserts, and they all look good.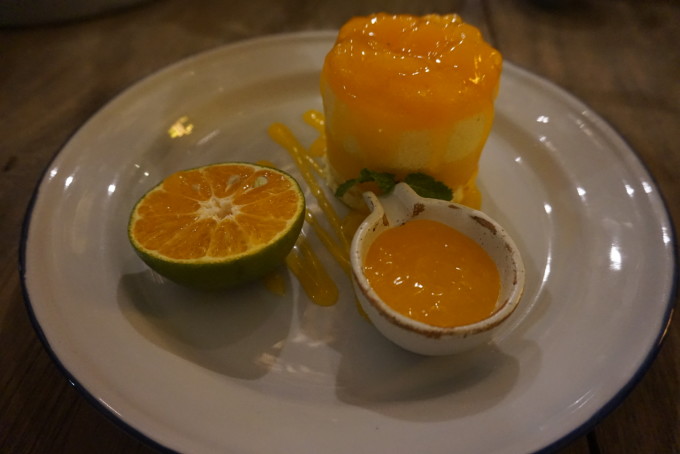 Woo Cafe-Art Gallery-Lifestyle Shop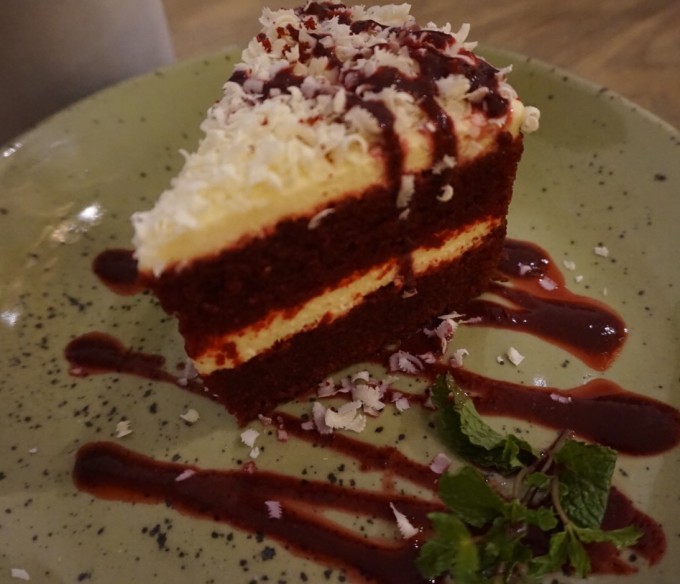 Woo Cafe-Art Gallery-Lifestyle Shop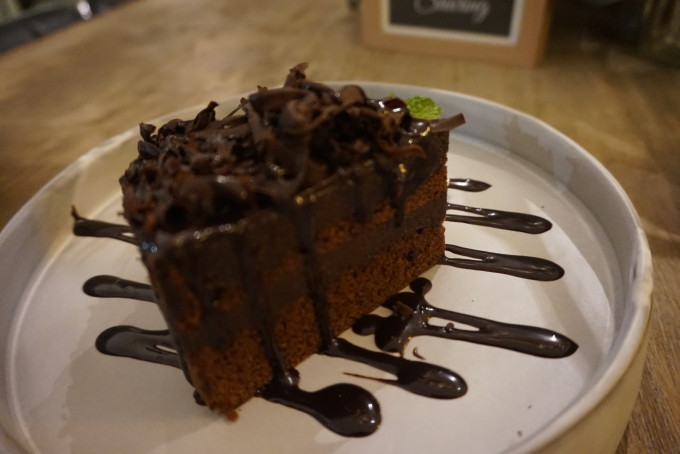 Woo Cafe-Art Gallery-Lifestyle Shop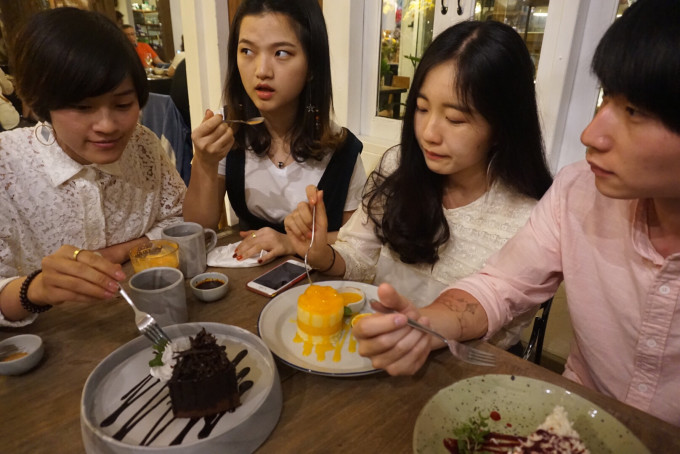 Woo Cafe-Art Gallery-Lifestyle Shop
There is also a shop selling art and aromatherapy next to it, and the design is also very particular.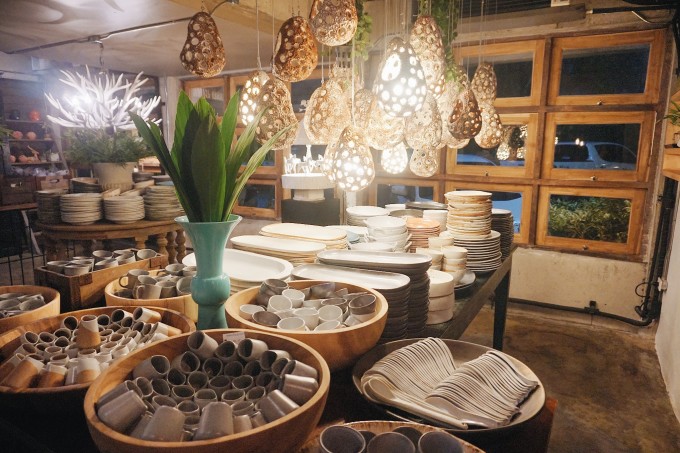 Woo Cafe-Art Gallery-Lifestyle Shop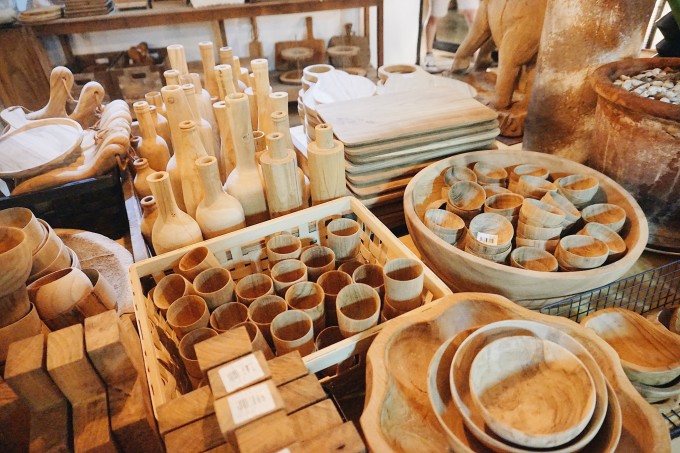 Woo Cafe-Art Gallery-Lifestyle Shop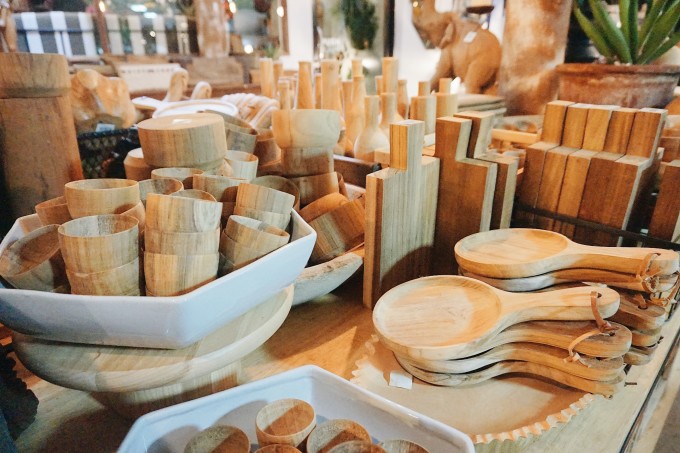 Woo Cafe-Art Gallery-Lifestyle Shop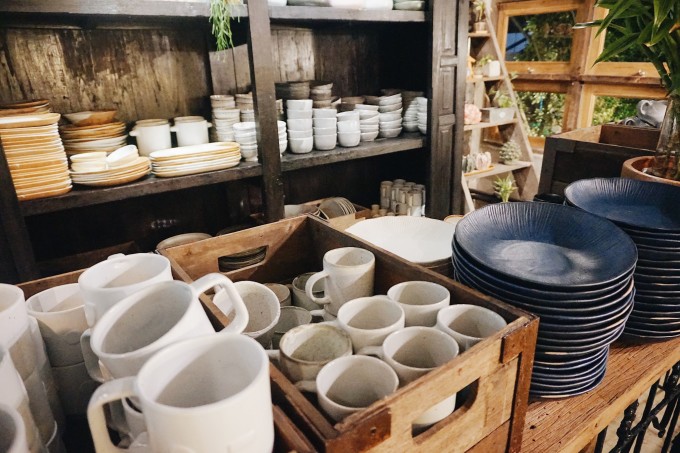 Woo Cafe-Art Gallery-Lifestyle Shop
On the second floor is a small gallery.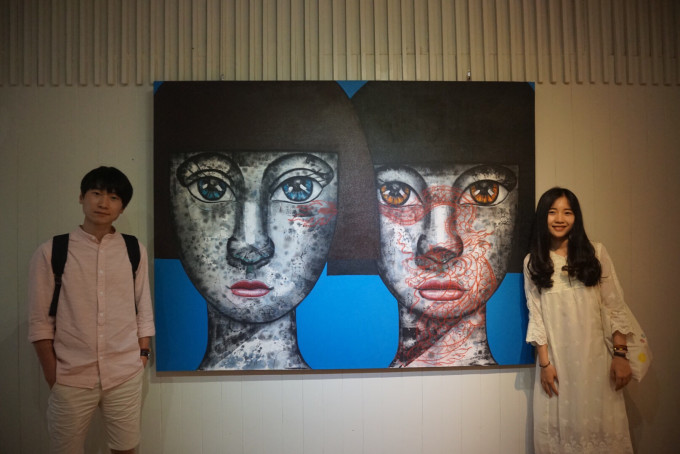 Woo Cafe-Art Gallery-Lifestyle Shop
The outdoor environment is beautiful, suitable for chatting and gathering.
There is an episode: We secretly ordered cakes at the beginning of the meal, and when I was caught off guard, all the waiters in the store gathered around to sing birthday songs, very surprised! Very shy, very moved. The surprise is 100 points so that it is too late to record.
It's a pity~
But the good memories will always be kept~
We are very full and satisfied, personally give this restaurant 100 points~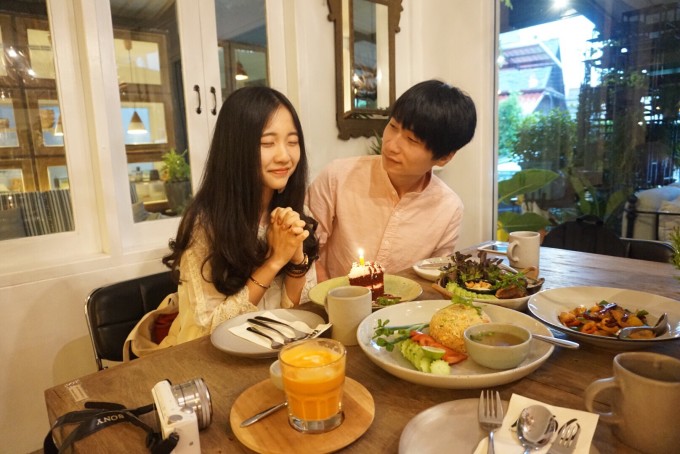 Woo Cafe-Art Gallery-Lifestyle Shop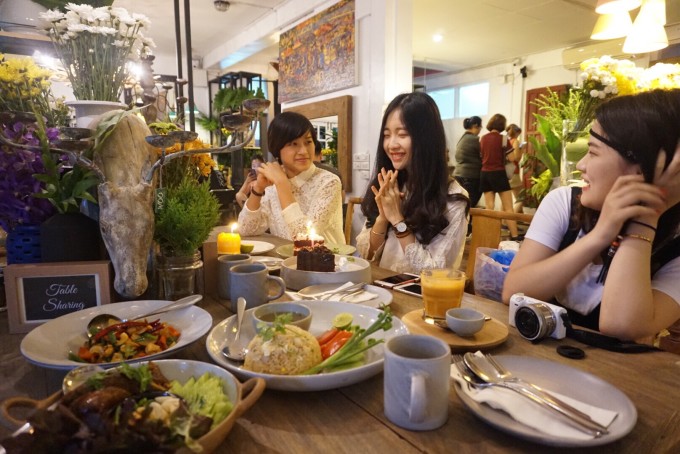 Woo Cafe-Art Gallery-Lifestyle Shop
After dinner, take a taxi from Woo to Maya.
Maya area regarded Mai relatively modern areas, the road and Ningman together. This is the first time I visited Maya, and the store was closed when I went there, so I didn't really go shopping. I went to the boots on the first floor and bought some medicine and cosmetics. It was very convenient and there were not many people.
DAY5 :( Chiang Mai - Airport Mall - Waluo Luo market)
for breakfast Bed Families with Thailand Special glutinous rice, grilled...pork? then what? Uneatable meat, chicken drumsticks, bread, glutinous rice, small fried dough sticks, orange juice.
Although simple, I like their chicken drumsticks~~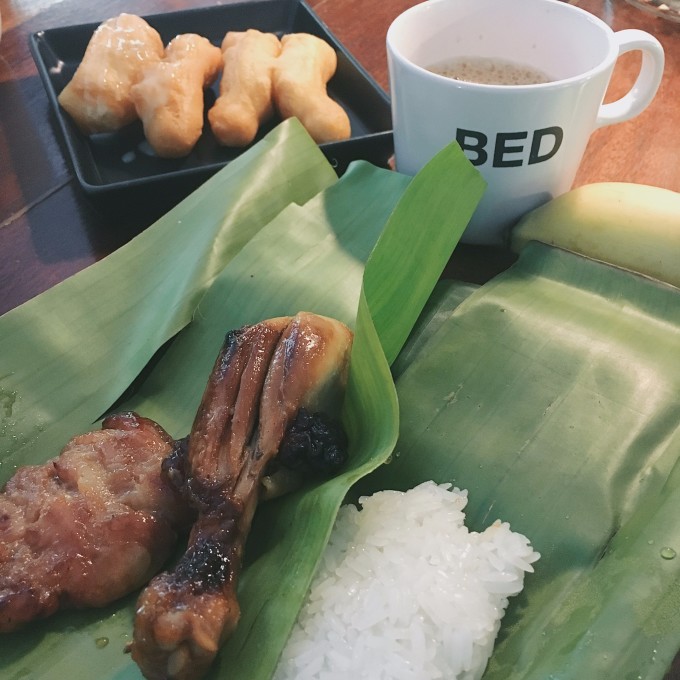 Charn Kiam Bed Hotel-Adults Only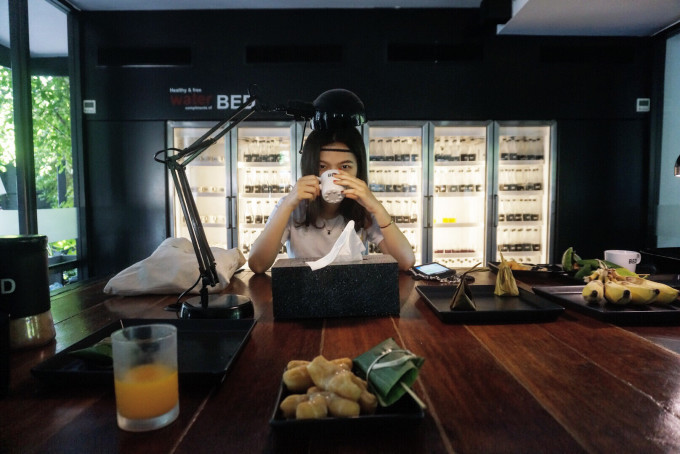 Charn Kiam Bed Hotel-Adults Only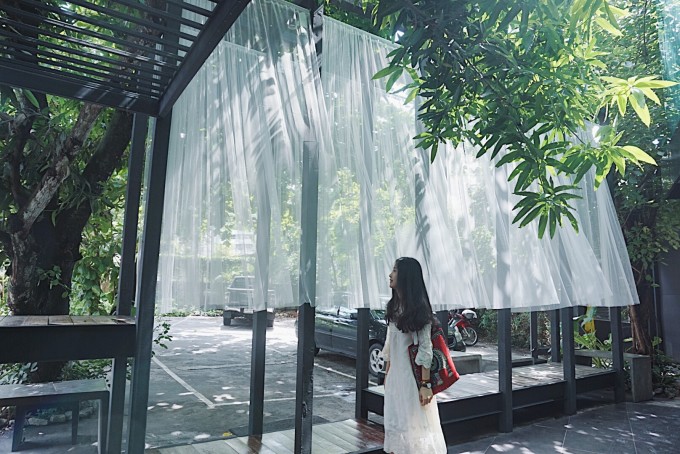 Charn Kiam Bed Hotel-Adults Only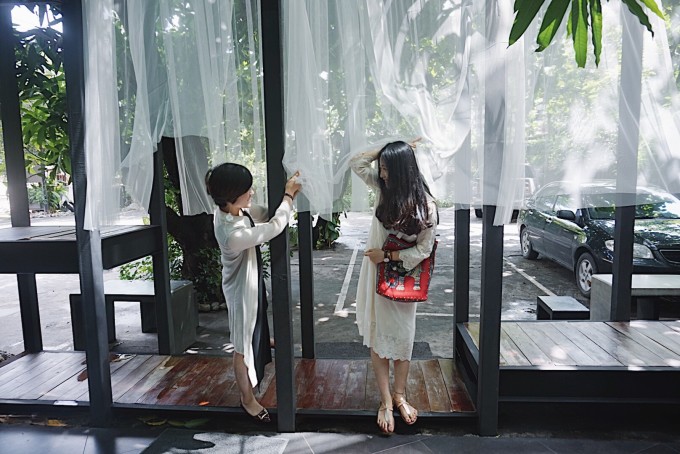 Charn Kiam Bed Hotel-Adults Only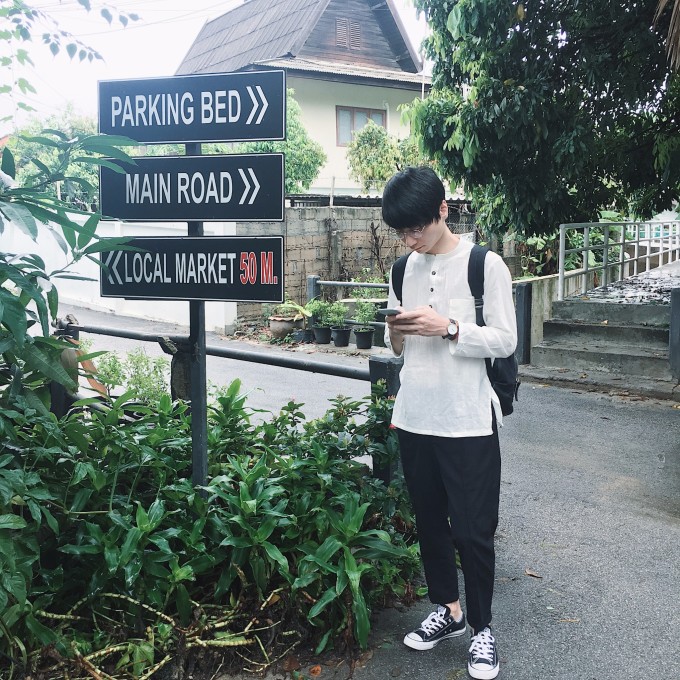 Charn Kiam Bed Hotel-Adults Only
I decided to go shopping today
. The business hours of the airport shopping mall are at 11 o'clock on weekdays. If you go early, you will get
20% off for two or more levis items. One piece is about 130-160, which is much cheaper than domestic ones~ I
also bought Wacoal, Perfume, shoes. I spent a morning in the airport shopping mall and had lunch at B1. Unlike the big restaurants in China, the food inside is very cheap and you can have one meal.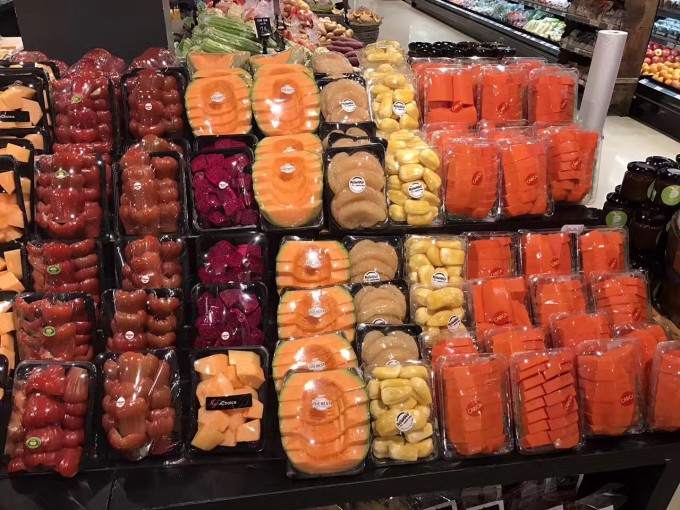 Central Chiang Mai Airport Shopping Center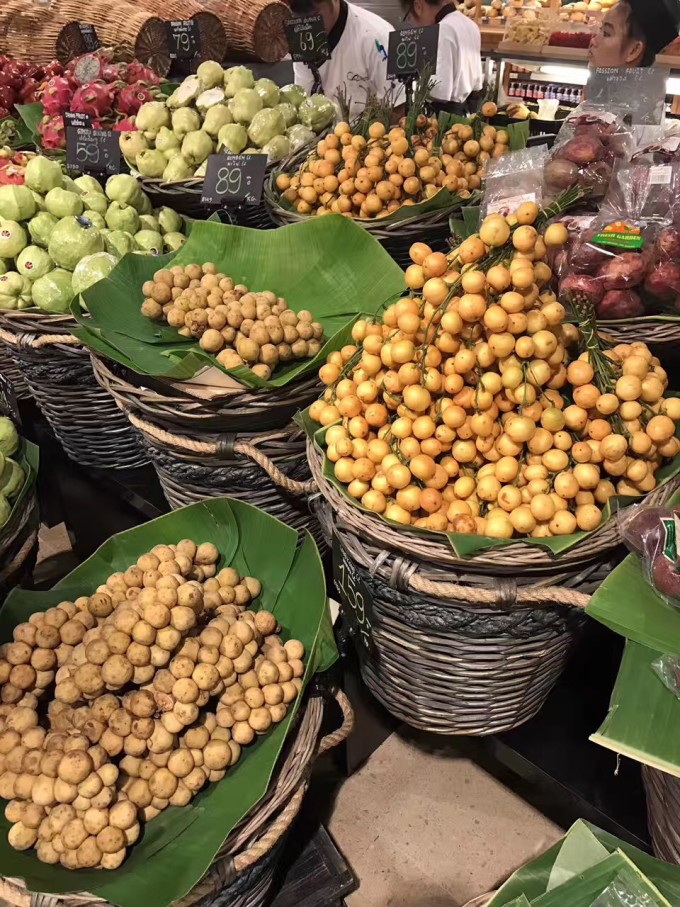 Central Chiang Mai Airport Shopping Center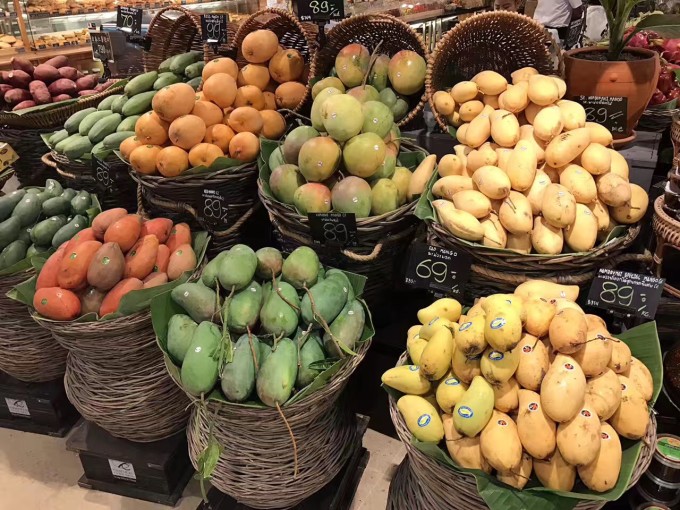 Central Chiang Mai Airport Shopping Center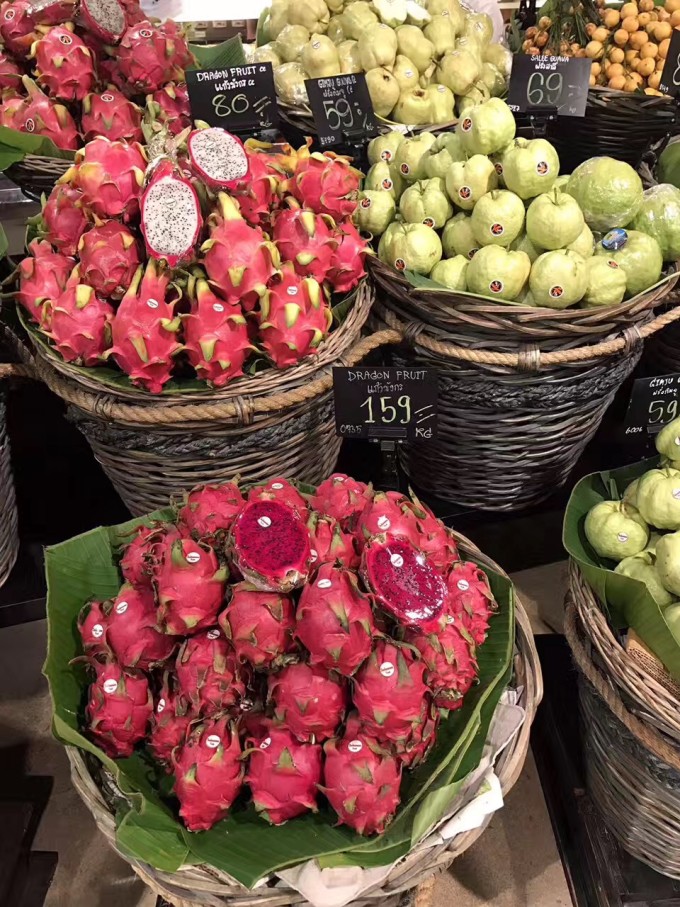 Central Chiang Mai Airport Shopping Center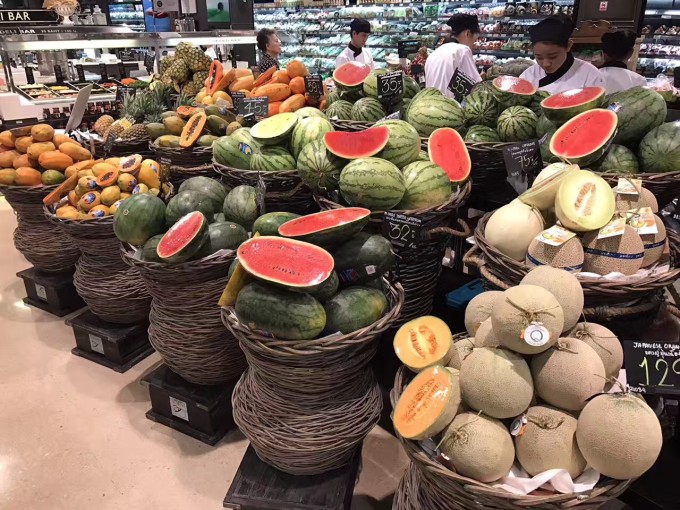 Central Chiang Mai Airport Shopping Center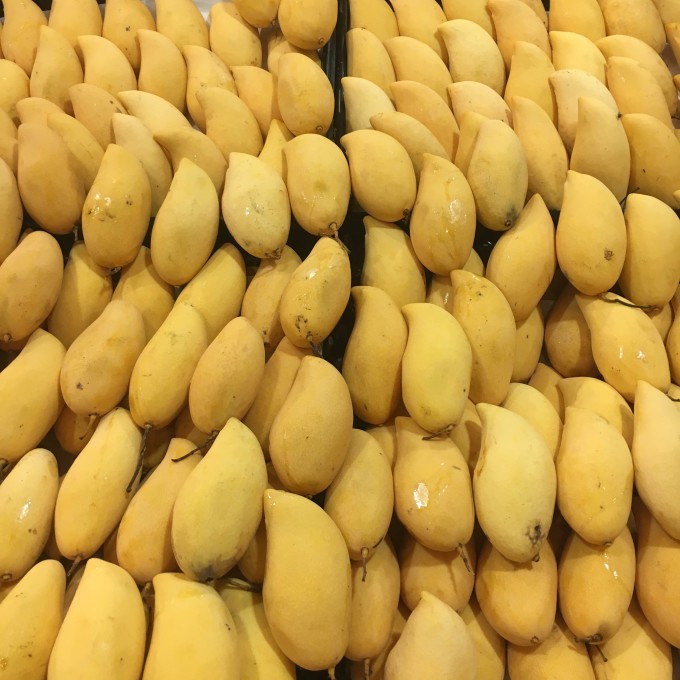 Central Chiang Mai Airport Shopping Center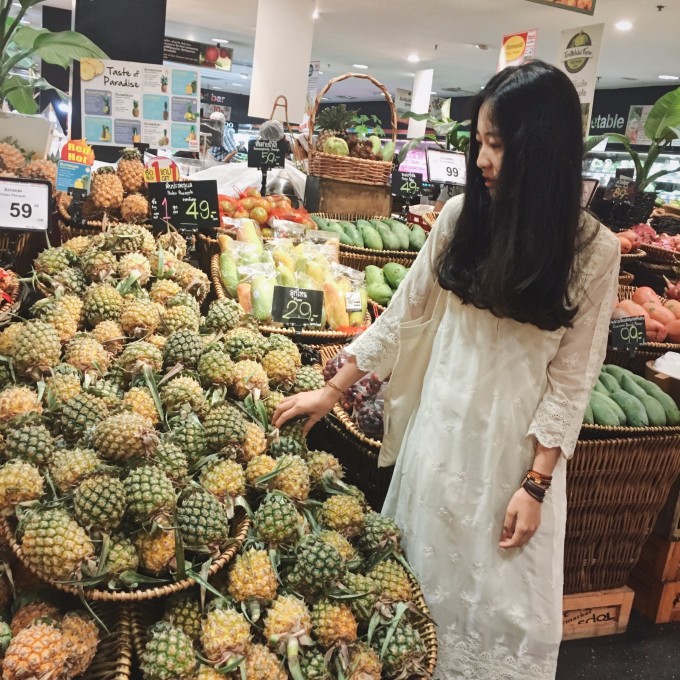 Central Chiang Mai Airport Shopping Center
Since the hotel is far away, I plan to go directly to Valoro to buy the things I want to buy together before going back.
After visiting the airport shopping mall, I ran to Warorot Market at noon. It was about 3 pm when it arrived, and the market was not crowded.
This market can be regarded as a relatively traditional market. You can almost find Thai specialties here. I heard that it is the largest wholesale market in the area. Sell flowers, fruits, dried fruits, daily necessities, seafood, etc. It is almost occupied by foreigners now.
The fruit is cheap and looks fresh.
There is a large area in the middle of the first floor selling dried fruits and specialty products, and the second floor selling clothing, cosmetics, handicrafts, etc.
The bosses of individual stalls can speak a few simple Chinese, and each one sells almost the same. The penetration rate of Chinese in the market is relatively low, and the owners of some shops do not speak English. Fortunately, the prices of general merchandise are written on cardboard. You can use a calculator to negotiate the price with the boss. If you buy something, you can buy it all at one time. If you buy more, you can bargain or bargain.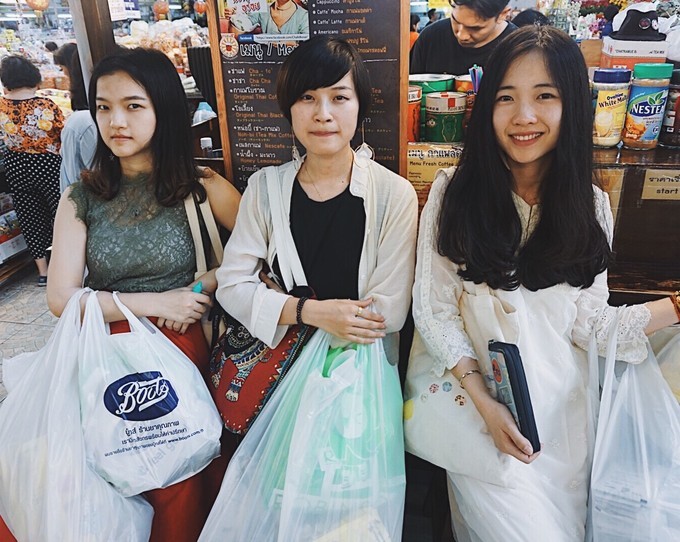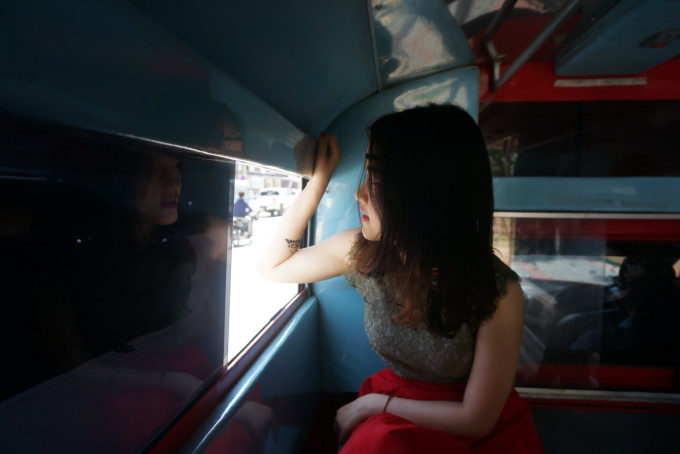 Eat dinner is wishing tree, the boss is the Chinese people.
I ordered pineapple rice, mussels, tom yam soup, roast pork neck (this is not recommended, the taste is average) and others are super delicious~~~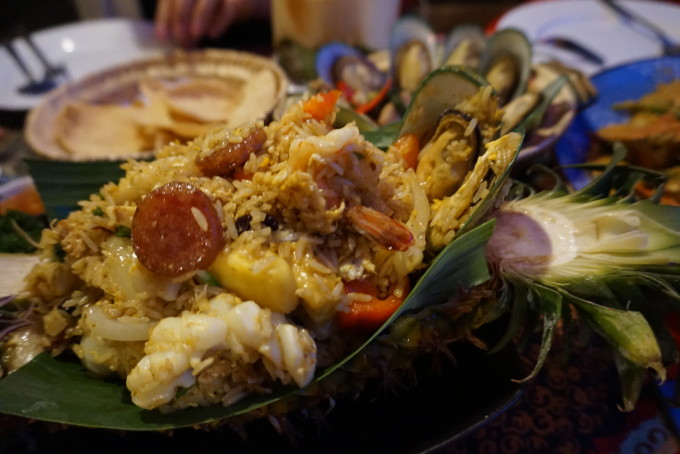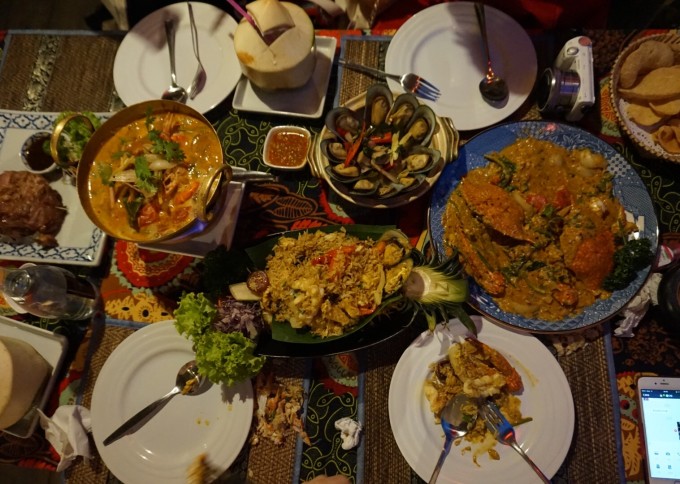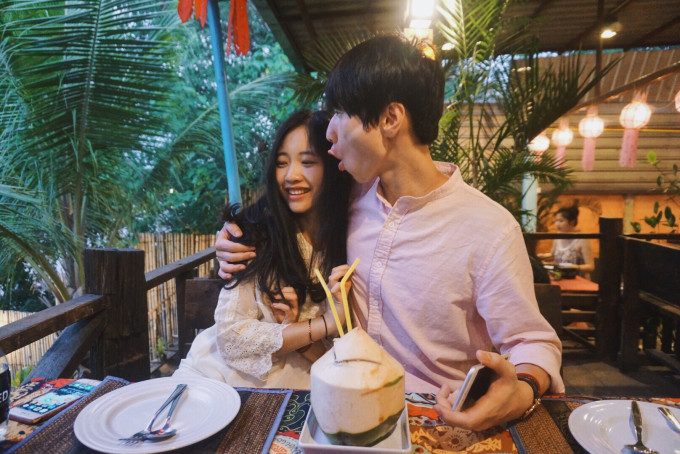 清迈 长康路夜市每天晚上都有,听说附近是红灯区,夜市比较小,所以吃的东西不是很多。有卖一些手工艺品,小饰物不错,东西不便宜,需要讲价,人流不会太拥挤。
如果错过周末夜市,可以来这个夜市感受一下。如果有把周末夜市安排在行程里,这个夜市可以放弃了。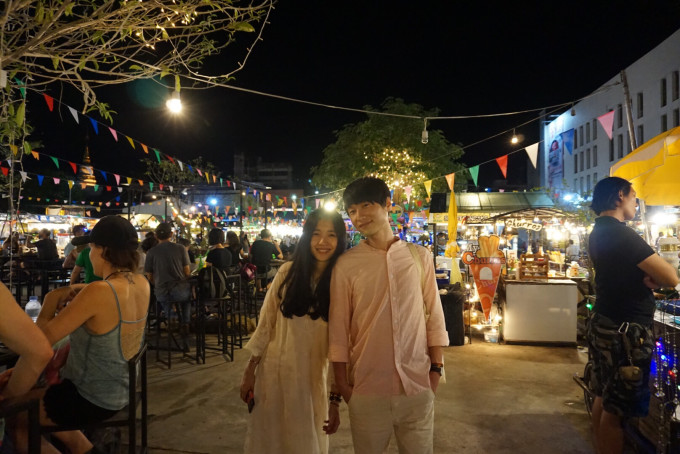 Chiang Mai Night Bazaar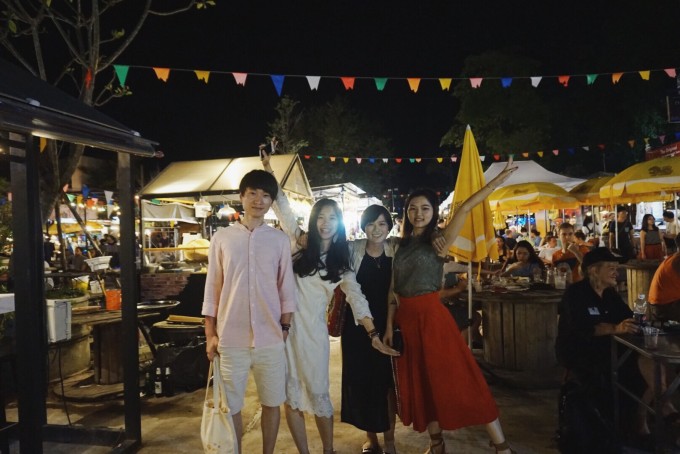 Chiang Mai Night Bazaar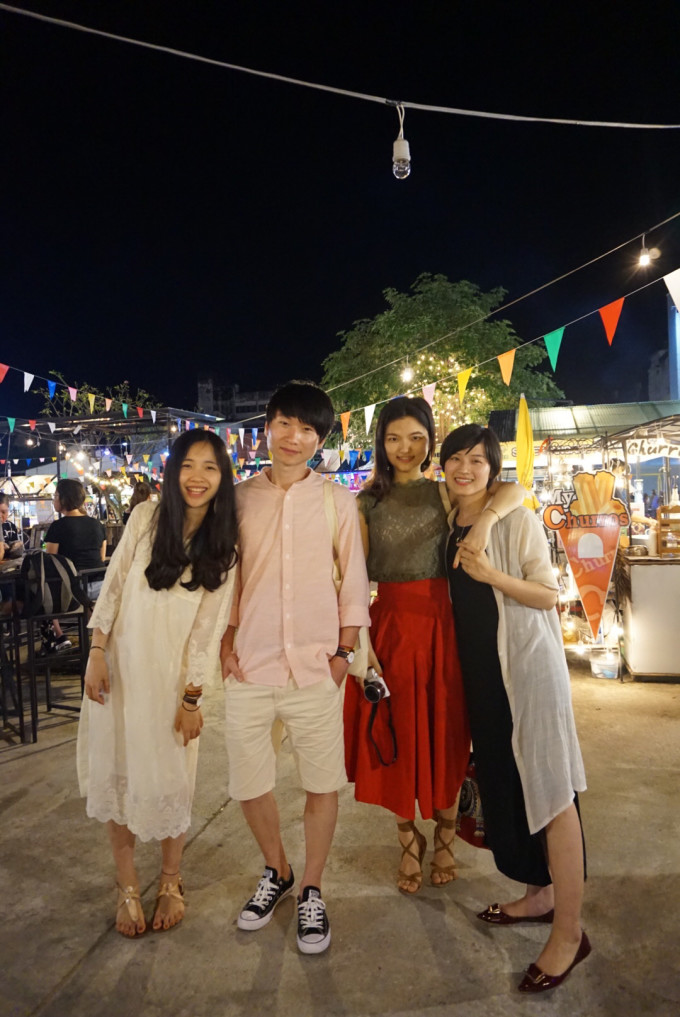 Chiang Mai Night Bazaar
Go back to the hotel after shopping for snacks at the night market.
Everyone is in the public area downstairs late at night, although the place is not very big but not noisy.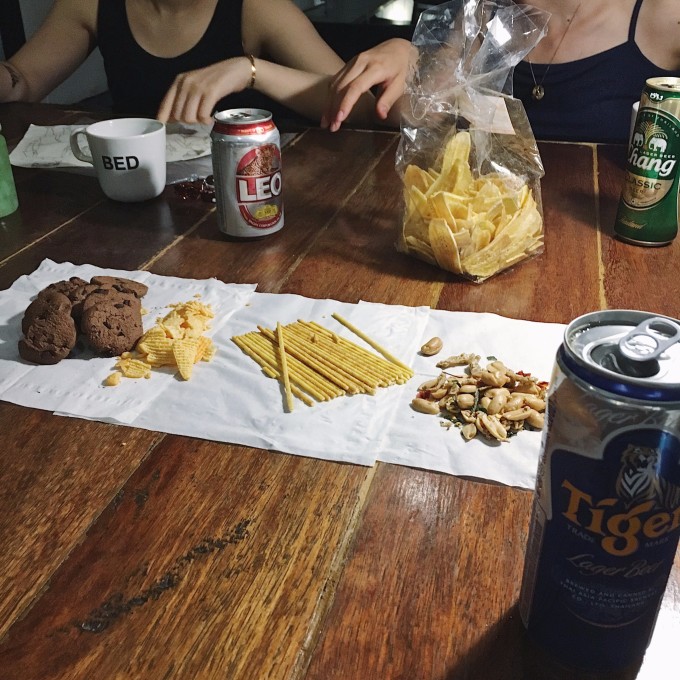 Charn Kiam Bed Hotel-Adults Only

DAY6 :( Taupe door - Ningman Road)
to Chiang Mai a week today regarded as large runaway, did not go to all the attractions punch again.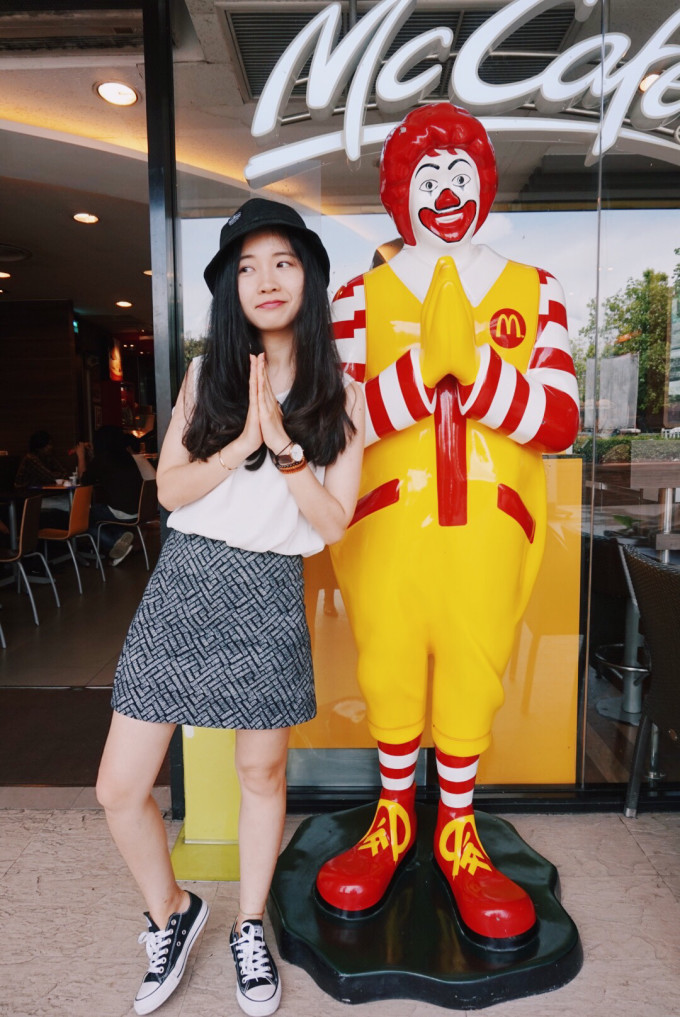 Taupe door
I really hope that it will not rain, there will be a little rain when I wake up early. After a while, it rained and the sky cleared, and the sun was so good~ Take a taxi to Thapae Gate. The old man who sold pigeon food the previous year is gone, and a group of young people are selling it.
The pigeon food was consumed very quickly, and I found two different people to buy the pigeon food, and I could take pictures with the best angle with my mobile phone.
The pigeon food is 3 packs of 100 plants.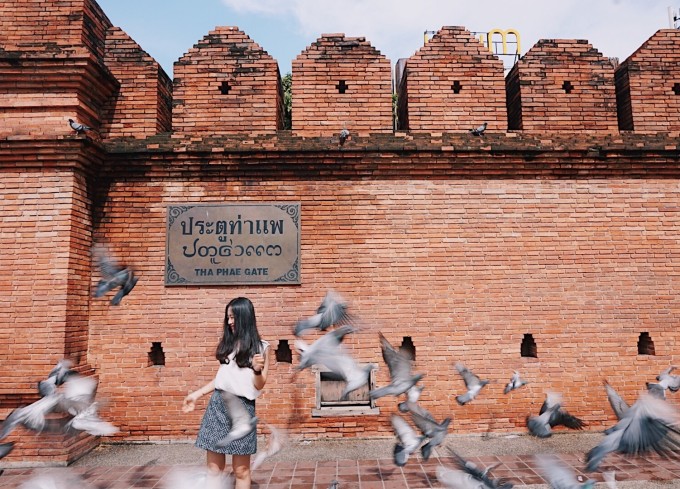 Taupe door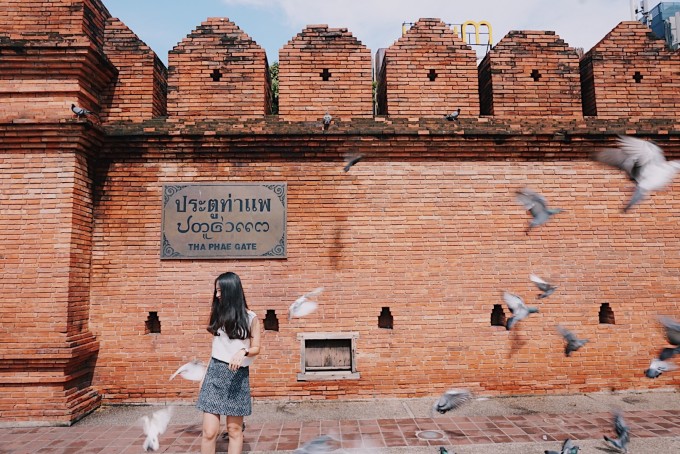 Taupe door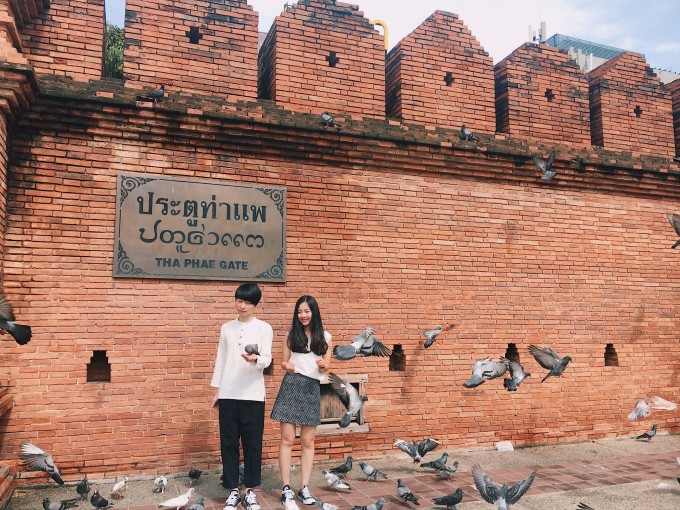 Taupe door
After shooting the pigeons, I went to Songpi Market. It was noon, and the market was basically closed. Only a few fruit shops were open. Buy mangosteen and wax to Chiang Mai must eat wax apple ah! Both times, the lotus mist conquered me. Compared with the tasteless lotus mist in China, the lotus mist in Chiang Mai is really sweet!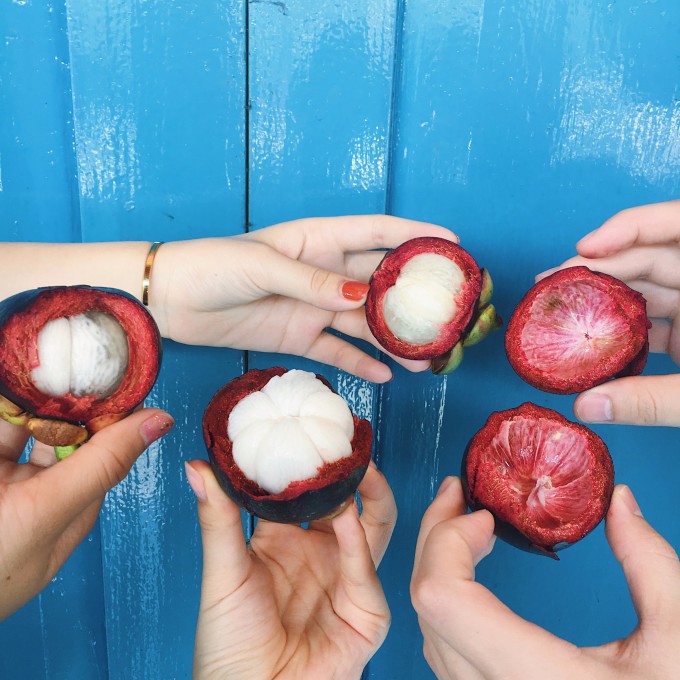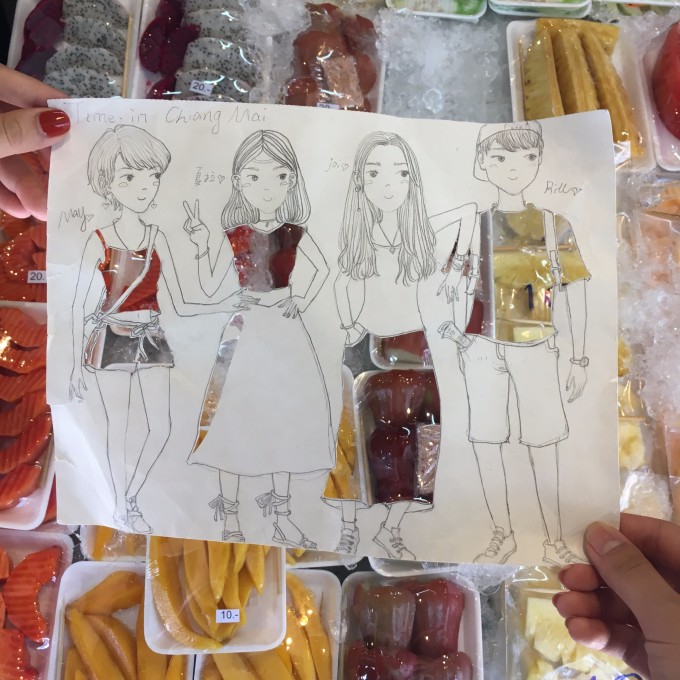 Taking a taxi to CRAZY NOODLE really complied with the saying that the fragrance of wine is not afraid of the deep alley. The store is in the alley of Ningman Road No. 1 and it is very convenient for Uber to go, about 51 plants. The store should be quite famous in local, eat face are basically the Thai people. The waiter smiled embarrassedly when he saw my door. When ordering, choose the taste first, including seafood, chicken, pork, etc., then choose the variety of noodles, and finally choose the taste of soup.
My friends in the same group do not eat spicy food, so we ordered clear soup and rice noodles.
It's a pity that I didn't taste the signature Tom Yum Goong flavor. I ordered other flavors of seafood noodles. There are so many seafoods, the whole bowl of noodles are spread all over, and the ingredients are very fresh. You know it when you eat shrimps. The fish inside is very tender.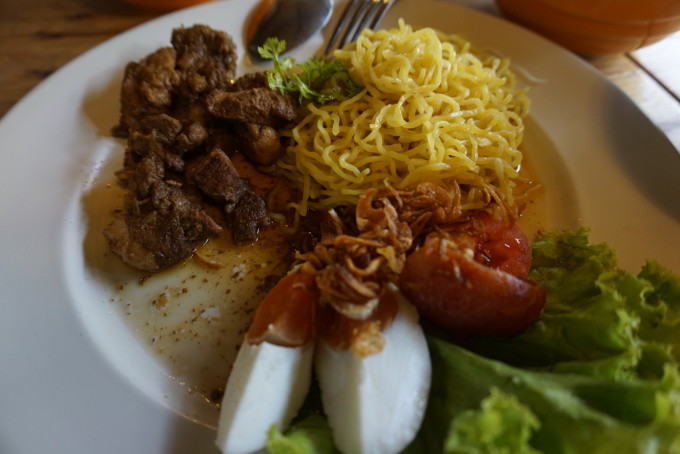 Nimman Road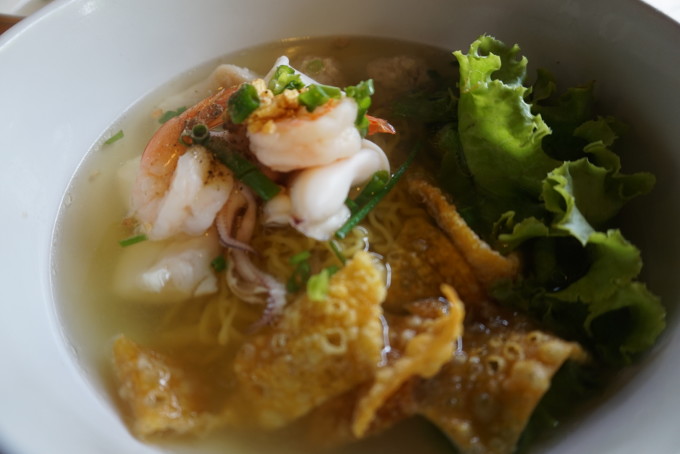 Nimman Road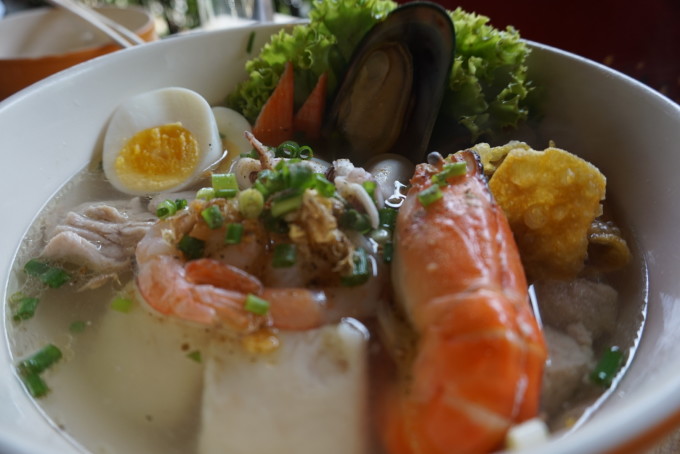 Nimman Road
Today is to go to various online celebrity shops to check in.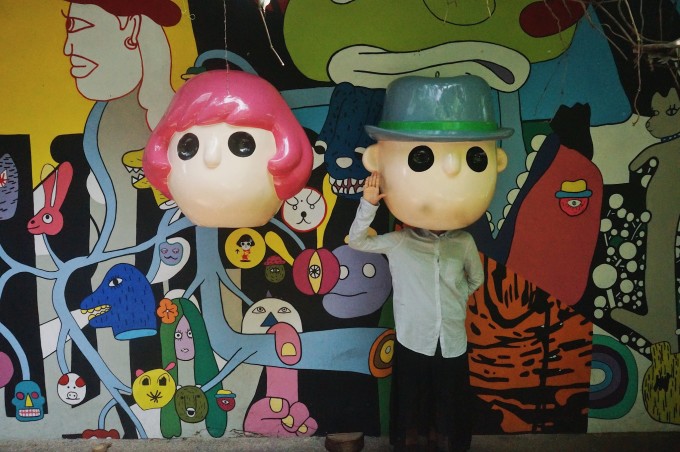 Nimman Road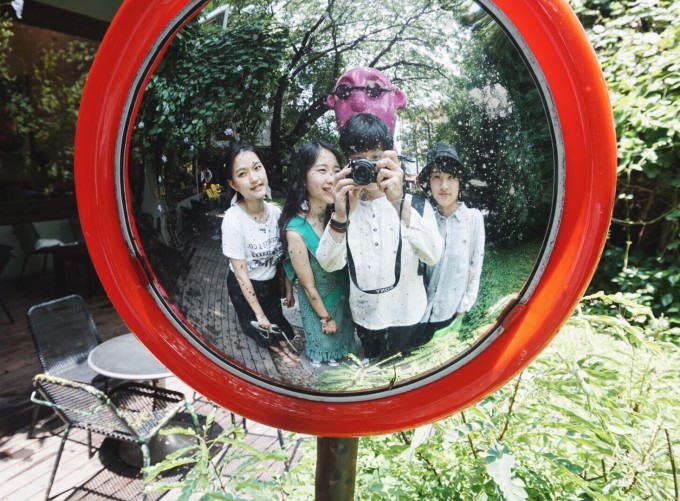 Nimman Road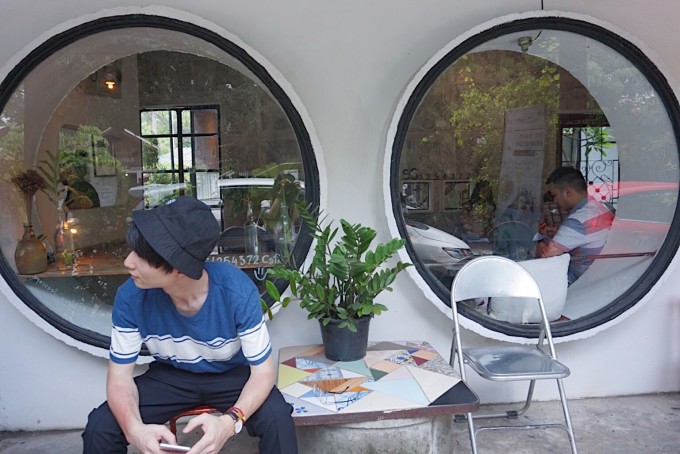 Nimman Road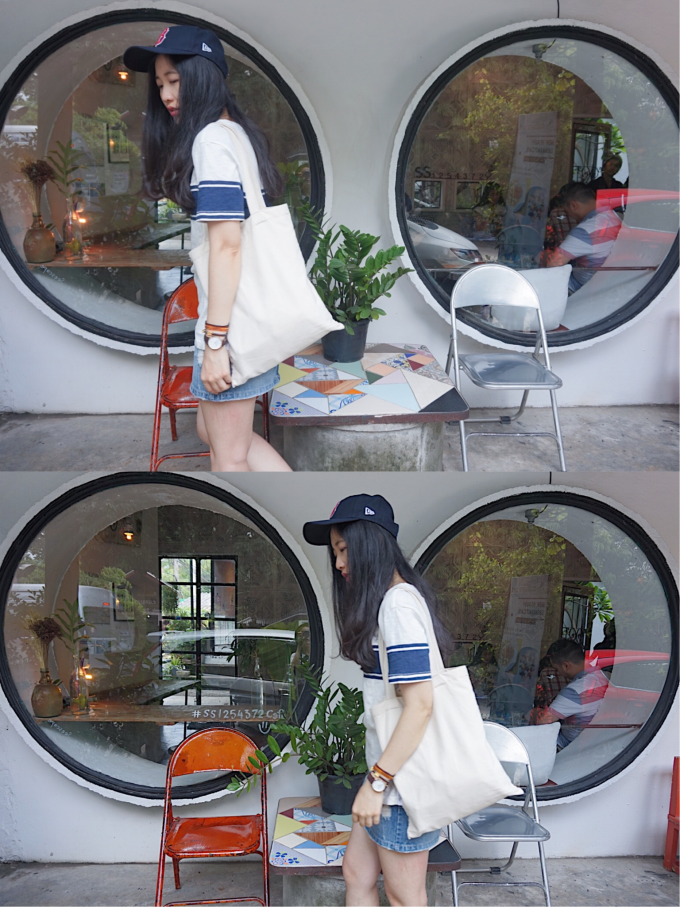 Nimman Road
A bit hard to find a shop in Chiang Mai alley nearby university.
The shop is really small, not much location, pure white and yellow embellishment, very clean.
The shop is made with soy milk coffee, Korean-style Xiaoqing style shop.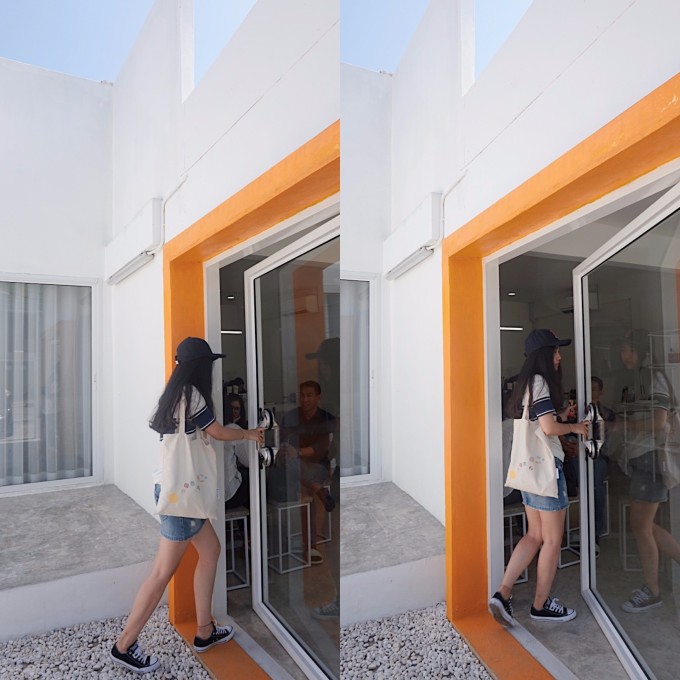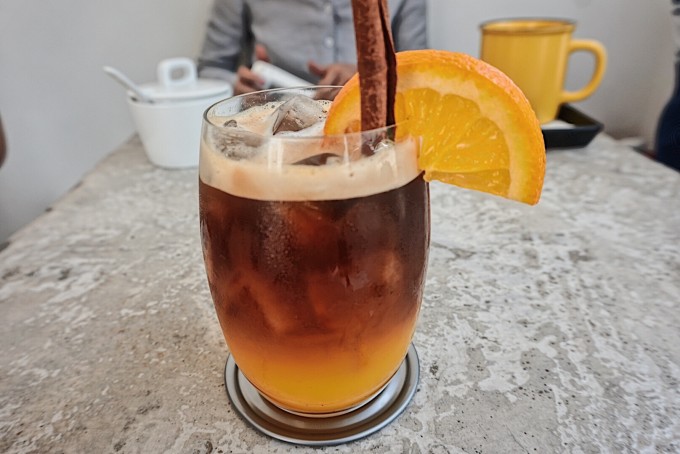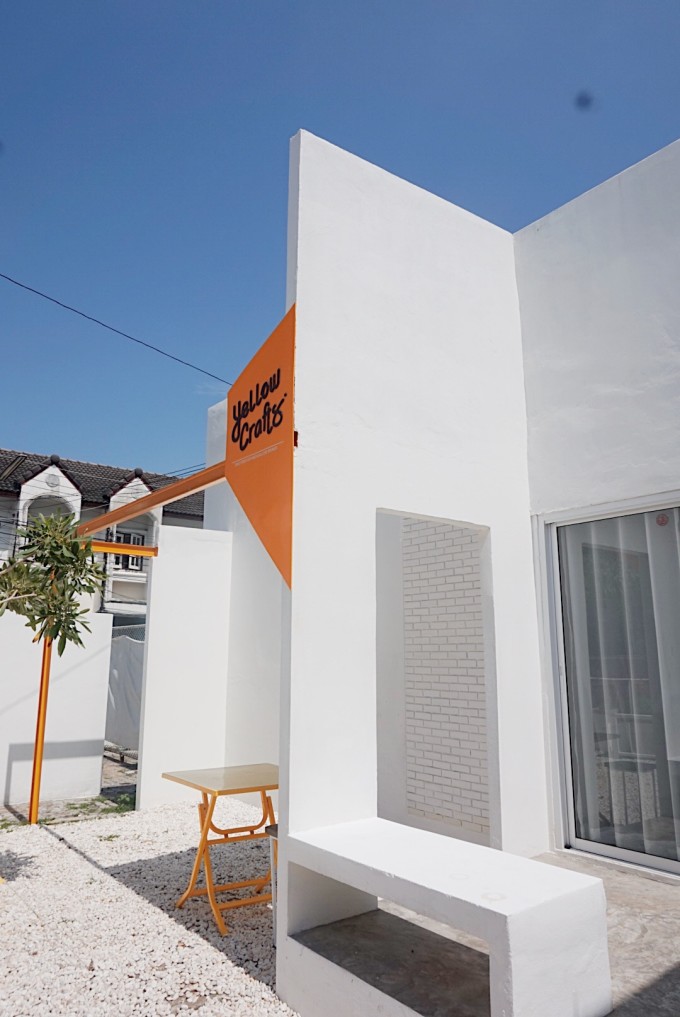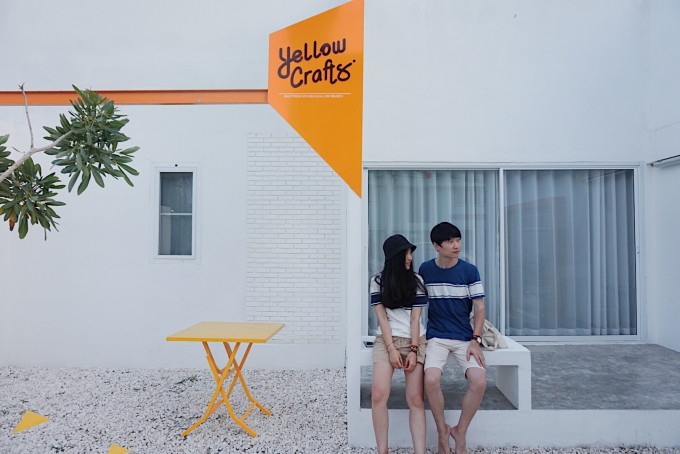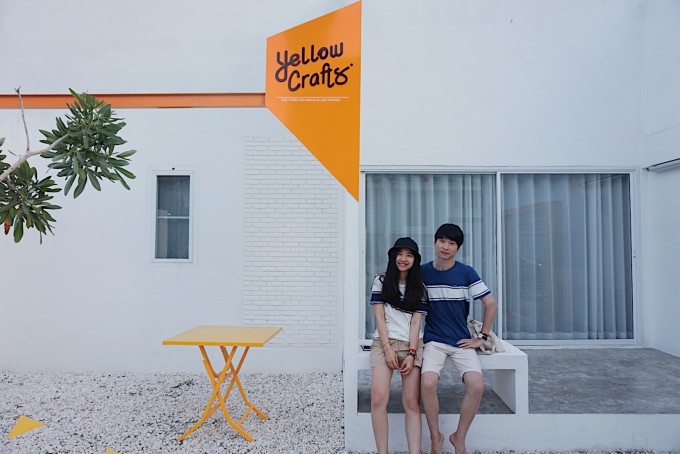 The smallest coffee shop that Graph went to was in a small alley, about 20 square meters, with only one waiter and three tables.
There are very few tourists who come to this coffee shop. It is not possible to take pictures inside the shop~ I wrote at the door~ I
didn't pay attention to it at the beginning. When I asked the boss if I could help take a photo, I was told that it was not possible and reminded us that there was writing outside. It's better to respect your boss when you're away.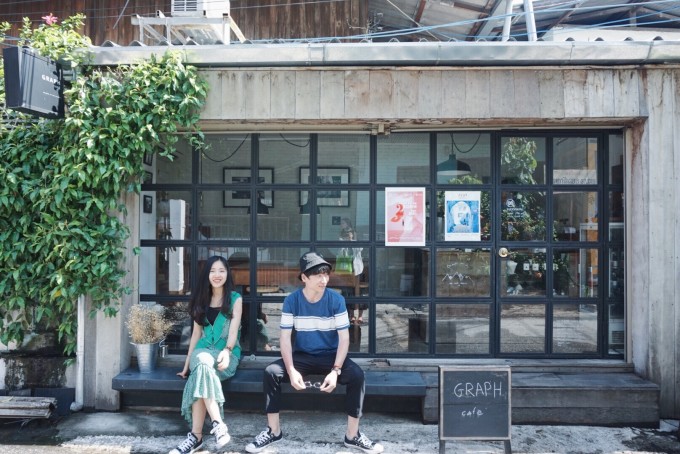 It was very hot after looking for this store, and I ordered cold drinks.
Red berry soda is the specialty, delicious!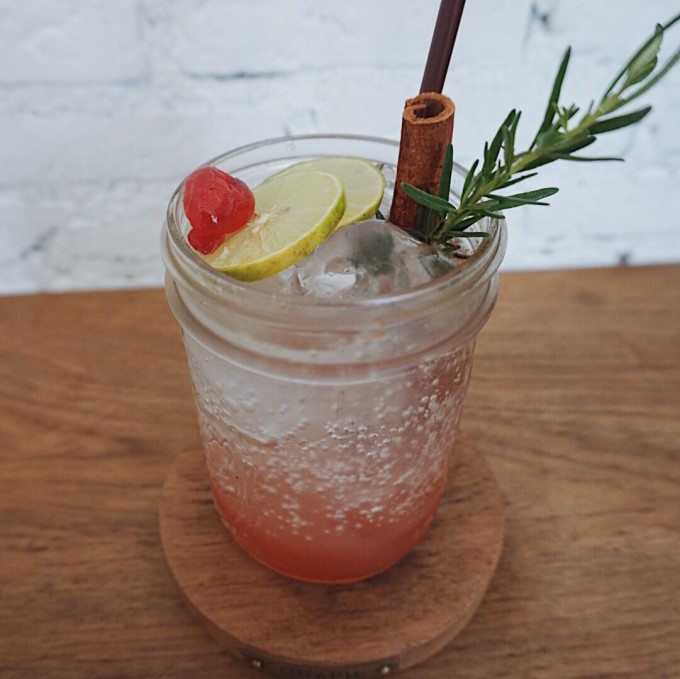 I ordered a cup and forgot what name it was. Looking at the picture of the menu, I ordered it.
There is a milky taste in the entrance. A cup of iced coffee is really comfortable in the hot summer~~~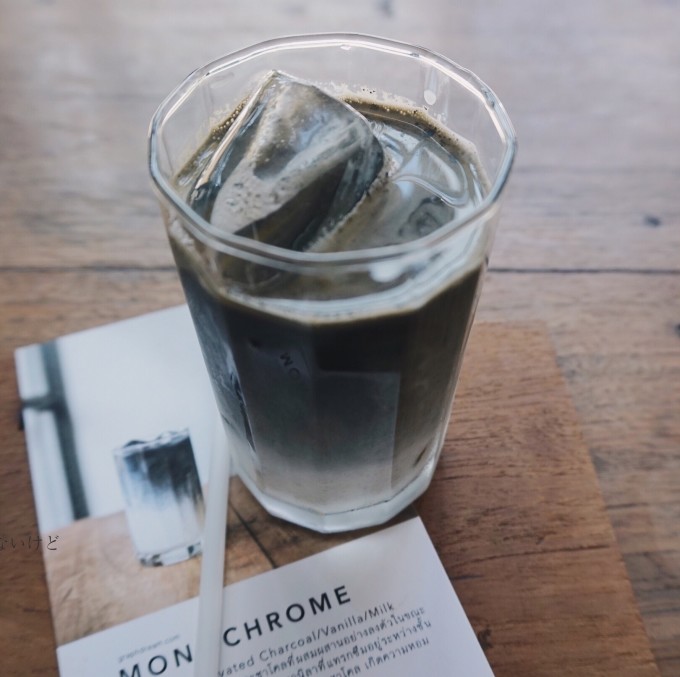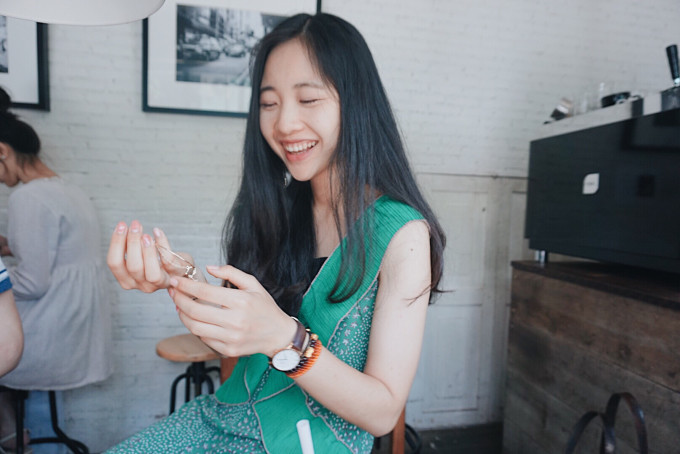 A famous roadside stall next to
Chiang Mai University, at the intersection of traffic lights, you can see a Watsons in the distance, or Google map navigation mon nom sot shop, you will see a Watsons and a blue exchange, this car is on this road side.
That's enough detail

Bird's nest is divided into common and thread, which can be cold or hot. The price is about 50 plants.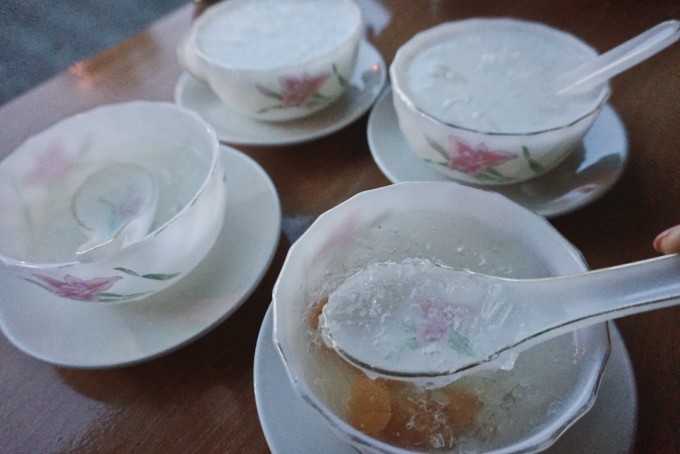 Thailand has always been my first choice for travel, and Chiang Mai is my favorite. Although it is the second time, we said we will come again next time~
Now I feel that traveling is a kind of mood, this time I just came out to relax.
The ideal state is to give yourself a vacation every year, letting go of everything and play for yourself for a week.
The itinerary is not full, so try to make it bigger and relax~~
Chiang Mai is not prosperous and fashionable, but it attracts me inexplicably.
Finally sincerely hope that we can go to Chiang Mai Experience the slow life~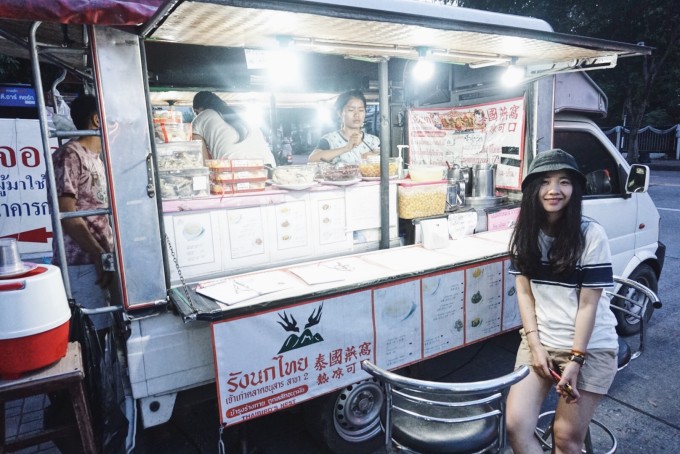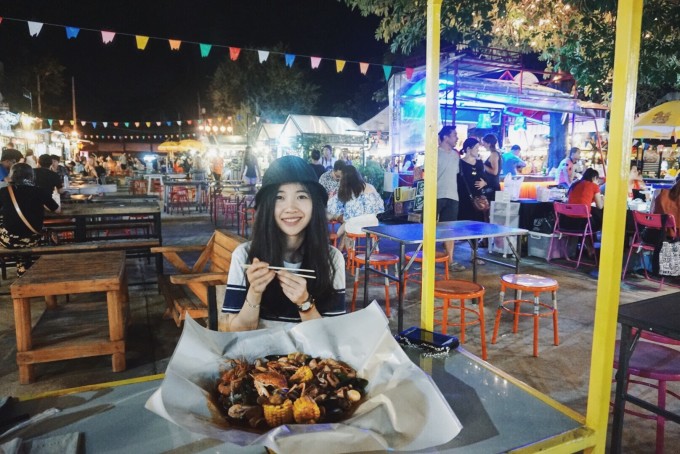 Chiang Mai Night Bazaar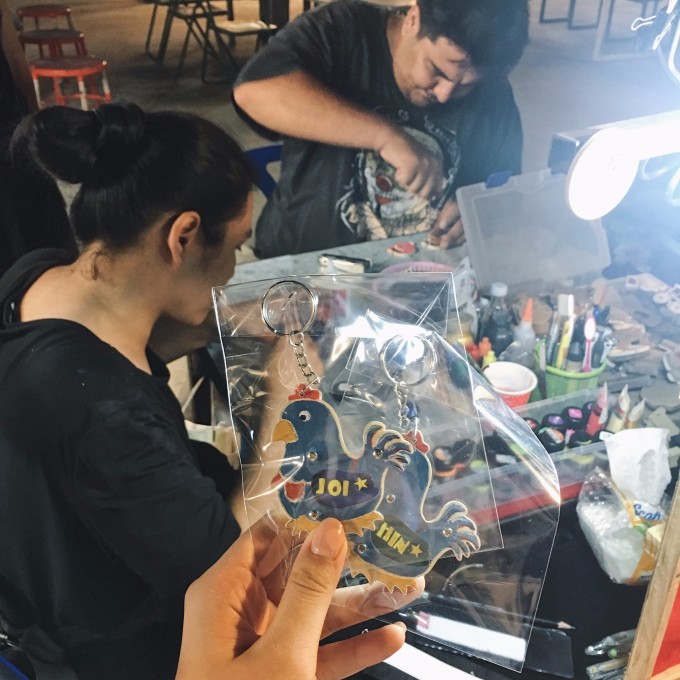 Chiang Mai Night Bazaar